Although most Smart TV users are okay with using the regular remote control, it can be frustrating to type long texts. You have to scroll through the alphabets using the arrow keys on the remote control, search for shows by titles, write emails or search for websites. This is where the need for an external keyboard for your smart TV comes in handy.
For convenience, you can connect a wireless or wired keyboard to your smart TV. Both wired and wireless keyboards connect to the Smart TV through the USB port, but they use different connection technologies, then you follow the pairing instructions on the TV screen. Unfortunately, not all keyboards are compatible with all smart TVs, and not all TVs have a USB port. From this article, you will learn how to connect both wired and wireless keyboards, how to use them, and all their limitations.
Why do you need to connect a keyboard to a TV?
The main reason you may need to connect a keyboard to your smart TV is convenience and efficiency. Using the arrow keys on your remote control to scroll through the alphabet keys to type can be annoying and slow. However, connecting a keyboard allows you to quickly type commands and texts as you would when using a computer.
Although connecting a keyboard to your TV makes typing so much easier, it doesn't give you the cursor control that a mouse has. A mouse can help you scroll through web pages much quicker. For TV control, the mouse enables you to move to the selected features and items much faster than using a remote control.
Not all keyboards work the same.
One of the most common problems with connecting a keyboard to a Smart TV is compatibility. Some TVs may not recognize some keyboards because manufacturer specifications vary. So you must check the list of brands the keyboard works with first before purchasing. Fortunately, most TVs from 2014 onwards can connect to a keyboard and mouse.
Another difference is the convenience between the wired keyboard and the wireless ones. For wired keyboards, you can only use the keyboard as far as the connecting cable will allow. As for wireless keyboards, you can move around with them as long as you're within the Bluetooth range. Also, wireless keyboards are often more compatible with other connected devices, so you can use them on your TV and PC at the same time without disconnecting them.
Both wired and wireless keyboards connect to the smart TVs through the USB port. USB ports are standard on most smart TVs; however, it is less common on Android models. So even if your Android TV has a USB port, the technology between the two devices is less likely to be compatible.
Keep in mind that even though you may succeed in connecting the keyboard to your TV, sometimes they do not support all functions. Look through your smart TV's features and connectivity options and then find a keyboard well suited to those specific features.
How to connect a wired keyboard to a smart TV?
Whether you're using a wired or wireless keyboard, you have to connect it to the smart TV you want it to control through the USB port.
Find the USB port usually at the back of the TV.
Plug the USB end of the cable on the keyboard into the USB port on the TV, and the keyboard options will appear on the TV screen.
Most smart TV will automatically recognize the device without any setup process. However, if you have to add the keyboard, follow the steps below.
Using your remote control, open the 'Settings' menu on your TV.
Select; General > External Device Manager > Input Device Manager
Scroll to your keyboard model and select it to add your keyboard.
How to connect a wireless keyboard to a smart TV?
Wireless keyboards connect to the TV using two different technologies; Bluetooth and Radiofrequency(RF). Bluetooth is compatible with most smart TVs, especially those with an Android operating system. Radiofrequency connects through a small USB wireless receiver that plugs into the USB port on the TV. Follow the instructions below to connect your wireless keyboard to a Smart TV using both connectivity options.
Connecting Radiofrequency(RF) keyboard
Install the recommended batteries into the keyboard.
Insert the wireless receiver into the USB port, usually at the back of your TV.
Turn the TV on and allow it to power up.
Press and hold the 'Connect' button on the keyboard's backside for about three seconds to connect to the TV.
Using Bluetooth keyboard
Before purchasing a Bluetooth keyboard, you have to make sure your smart TV has Bluetooth. If it doesn't have, you can opt for radiofrequency connectivity or buy a Bluetooth dongle and plug it into the USB port. The setup process is slightly different depending on the TV model, but here is a general procedure.
Switch on the Bluetooth on your Smart TV or plug the USB dongle into a USB port on the TV.
Insert batteries into the keyboard and turn on the keyboard.
Your TV should automatically detect the keyboard, and a dialog box will appear on the screen.
Using the remote control, go to Menu > Settings > Device Manager > Keyboard Settings.
Choose the keyboard you want to pair with.
Select 'Add Bluetooth Keyboard'
Your keyboard and Smart TV will take a few seconds to pair, and then you can use the keyboard.
Check this too: JVC TV Troubleshooting & How to Guide
The best keyboards for Smart TVs
For maximum convenience, we have suggested some of our favorite keyboards that come with a touchpad to give you cursor control. So you can now comfortably type and select items on your smart TV on one device from the comfort of your seat.
Logitech K600 TV Keyboard

The Logitech K600 keyboard comes with standard keys, thumb-friendly TV navigation buttons, an inbuilt touchpad for cursor control, and preset key mappings for several Smart TV platforms. This keyboard is user-friendly too, as it doesn't require any additional software. In addition, its 15-meter wireless range gives you a reliable wireless connection with no drop-offs. The Logitech K600 works with LG WebOS TVs, Samsung Tizen TVs, Android TV, Amazon Fire TV, macOS, ChromeOS, iOS, and Windows. The keyboard uses a USB dongle and Bluetooth for connection.
Features
Connectivity technology: Wireless
Compatible devices: Smart TV, PC
Number of keys: 84
Style: Keyboard
Keyboard layout: QWERTY
Item dimensions: 14.46 x 0.78 x 4.62 inches
Power source: 1 CR123A batteries
Pros
Attractive design
Easy wireless connectivity
Three device support – TV, Windows, Mac, etc
It has Bluetooth
Software-free setup
Cons
Cramped keys
It doesn't work well with every app
It has no backlight.
You can't scroll quickly using just your thumb.
Rii 2.4GHz Mini Wireless Keyboard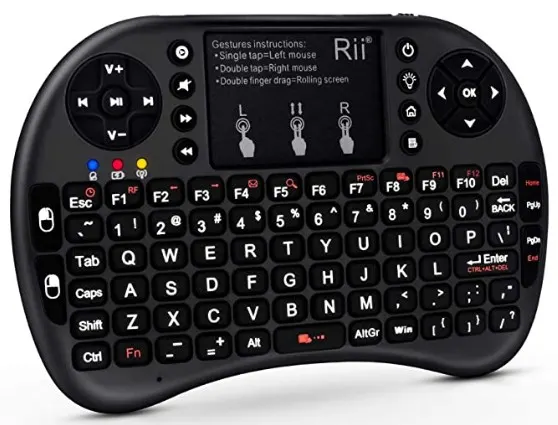 The Rii mini wireless keypad is a palm-sized HTPC keyboard with a complete QWERTY layout that balances size and functionality. It has a game controller design that allows for comfortable one-handed and two-handed wielding. It has an in-built touchpad for gesture control, multimedia controls, function buttons, standard alphabet keys, and more. The keypad has a backlight that allows comfortable operation even in the dark. It has a long battery life that is rechargeable but not replaceable. It is compatible with Windows, Linus, macOS, Android, and even game consoles.
Features
Connectivity technology: 2.4GHz wireless radiofrequency
Compatible devices: Smart TV, PC
Number of keys: 92
Style: 2.4G RF
Keyboard layout: QWERTY
Power source: Built-in 1 Lithium Polymer batteries required
Item dimensions: 148mm x 97mm x18.5mm
Pros
It has backlight keys
It's small in size.
It is budget-friendly.
Its compatibility with all major electronic devices.
Cons
Some users experience connectivity interruptions over distance.
It has a limited selection of shortcut keys.
Arteck Universal 2.4G Wireless Keyboard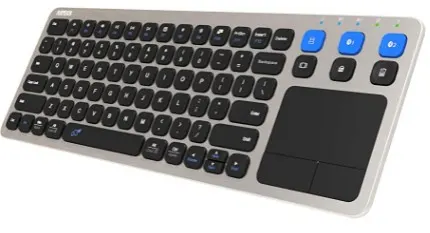 This Arteck Universal wireless keyboard with a touchpad has a solid quality build with an ergonomic design that delivers a comfortable typing experience. It has an easy setup by simply inserting the nano USB receiver into your smart TV or PC. It is ultra-thin and lightweight but has low-profile full-size keys for quiet and easy typing. It comes with a rechargeable lithium battery that can last for six months with a single charge. Although it connects to three devices through 2.4G USB wireless and two Bluetooth connections simultaneously, it has limited functionality with MacOS.
Features
Connectivity technology: Bluetooth, USB
Compatible devices: Smart TV, PC, laptop
Number of keys: 84
Keyboard style: QWERTY
Compatible OS: Chrome OS, Windows 10
Power source: Built-in 1 Lithium Polymer batteries required
Item dimensions: 16.42 x 5.31 x 0.87 inches
Pros
It works with a variety of devices.
Thin and light design.
It has a simple installation.
Quiet and fast responsive keys.
Cons
Limited function key compatibility with macOS
Wrapping it up
It is clear that regardless of whether it's a wired keyboard or wireless keyboard, it is much easier and comfortable than using the TV's remote control. Also, using a keyboard with a mouse or touchpad allows for much easier scrolling. Fortunately, they are all easy to connect using the USB port on your smart TV. The limitation lies only in choosing the most suitable keyboard that will work with your specific TV; we recommend using RF keyboards instead of Bluetooth keyboards as they are more compatible with Smart TVs,