When using a karaoke machine, the microphone is a vital piece of the setup as it enables you to belt out your tunes. The microphone essentially amplifies your voice and makes it easier to transmit through a sound system such as a soundbar.
To do this, you need to connect the microphone to your soundbar. Keep reading to learn how to connect a microphone to a soundbar.
How to connect a microphone to a soundbar
Most soundbars only have one or two audio connection options—the Auxiliary or "line-in," optical, red, and white RCA cables. Alternatively, you may have a soundbar that just runs on HDMI.
Most karaoke mixers will come with auxiliary and RCA cables which will help most systems fit together.
Follow these steps to connect your microphone to your soundbar;
Disconnect the soundbar from the audio source
Connect the television to a karaoke mixer
Connect the karaoke mixer to your soundbar
Connect the microphone(s) to the karaoke mixer
Turn on and test
How to Connect to a Speaker with a Microphone Using Bluetooth
You will need a device that will serve as an intermediary, such as a PC.
Connect the devices to the PC via invitation (Pairing)
Get your Bluetooth mic connected to your mixer by pairing
Then, pair your Bluetooth speaker.
Enable the correct settings, which will prompt the microphone to send signals to the speaker.
The speaker and microphone can then be disconnected via your PC.
Do You Need a Television for Karaoke?
The TV helps in displaying the output video of your Karaoke system connection. It provides a visual display of your setup, allowing you to add a pop of color to your performance.
The television also will enable you to follow the song lyrics.
How to setup Karaoke on your Smart TV
On your Karaoke machine, turn on the Bluetooth setting
Under your TV setting, select the Bluetooth setting and click on 'search for devices'
The karaoke machine will be listed among the devices options available.
Click on connect to this device or pair that will be displayed on your screen.
Using a Wire Connection
You will need the RCA connection.
Connect the cable to your TV and ensure that the color corresponds with one another.
The wires should be connected to the port that indicates 'In' on your TV and the port that indicates 'Out' on your Karaoke machine.
Once you get connected, put on your TV and the Karaoke machine.
Then, select AV or AVI for your TV video source.
Insert your karaoke CD, and the lyrics will be displayed on your TV; sing along and have fun.
Can I connect a microphone to any speaker without a karaoke mixer?
It depends on the type of speaker. You can simplify the connecting process if you have a wireless microphone that uses Bluetooth. And it is possible to connect other speakers with a microphone without a karaoke mixer.
But it is far more complicated to connect a microphone to a soundbar without a karaoke mixer. For starters, soundbars don't have mic-in options – which is why you need a karaoke mixer.
Soundbars are designed only to play the sound from one input at a time. So the only way to get multiple karaoke singers' voices to come out of the soundbar is to make them go into the soundbar together using a karaoke mixer.
Best Karaoke Mixers of 2021
Sound Town Wireless Microphone Karaoke Mixer System (SWM15-PROS)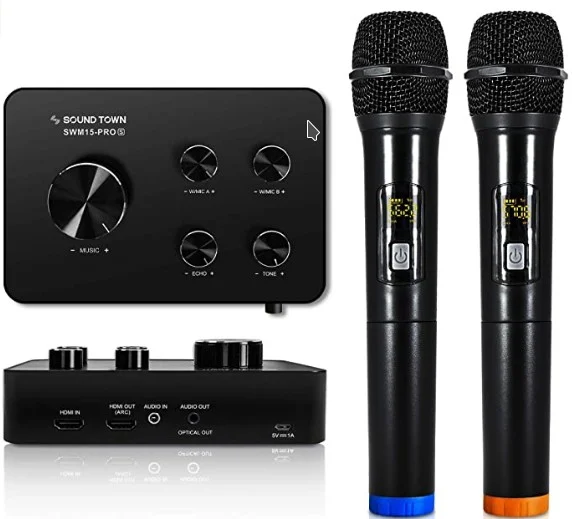 The Sound Town SWM15-PROS is a compact karaoke microphone mixer system that features dual-channel, eight selectable UHF frequencies per channel. It has 16 channels in total and is interference-free.
The HDMI, 3.5mm (1/8″) input and output connectors, and built-in Bluetooth make it easy to connect with various devices, including TV boxes, smart TV, home theatre systems, receivers, speakers, soundbars, and amplifiers.
Its microphone receiver and sound mixer enable you to mix microphone signals with music without using an additional mixer. It comes with two wireless microphones, and it can support two wired dynamic microphones.
The rotatory control knobs on the mixer can swiftly adjust the volume of your music, microphone, echo, and tone to the desired level. Making it ideal for karaoke, DJ music, and house parties.
The mixer has a built-in HDMI ARC (Audio Return Channel) connector that allows you to connect to almost any smart TV through an HDMI cable. And depending on the input connectors on your soundbar or home receiver, the Audio Out port can serve as an AUX or optical output.
Lastly, its dual-purpose work makes it easy to connect the mixer to almost any soundbar or receiver.
Features
16 UHF Selectable Frequencies
Supports HDMI ARC
Supports Optical Input Sound Bars
Sleek Metal Design
Includes 2 Wireless Handheld Microphones
Echo & Tone Controls
Built-in Bluetooth
Pros
100 Feet Operating Range
Versatile Compatibility Options
Built-in HDMI ARC (Audio Return Channel) connector
Easy to setup
Cons
Pyle Portable Home Theater Karaoke Microphone Mixer (PDWMKHRD22WM)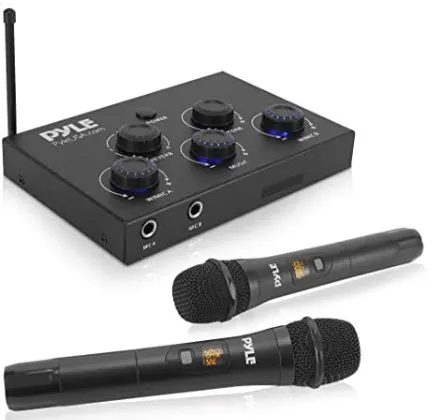 This Pyle Portable Home Theatre Karaoke Mixer System can support up to two wireless handheld microphones and up to 2 wired dynamic microphones. It is compatible with many different devices.
Such as; smart TVs, Blue-Ray Player, notebooks, computer / PC, laptops, iPad, tablets, smartphone, DVD player, stereo, MID, home theatre systems, receivers, speakers & many more.
It is equipped with rotary control knobs that both kids and adults can use. The knobs swiftly adjust the volume of your music, mic, echo, and tone to your desired level.
Additionally, it comes with long-range microphones with a UHF wireless operation range of up to 100'+ ft; that allows you to walk around while you sing.
Features
HDMI In and Out (ARC) Connectors
Aux (3.5mm) Input/Output
Simple Rotary Audio Controls
Power ON/OFF Switch
Volume, Microphone,
Echo & Tone Adjustment
Built-in Wireless BT Streaming
Pros
Dual microphone setting
Adjustable rotary controls
Long-range wireless mics
Compatible with many devices
Cons
Bietrun Wireless Microphone for TV Karaoke System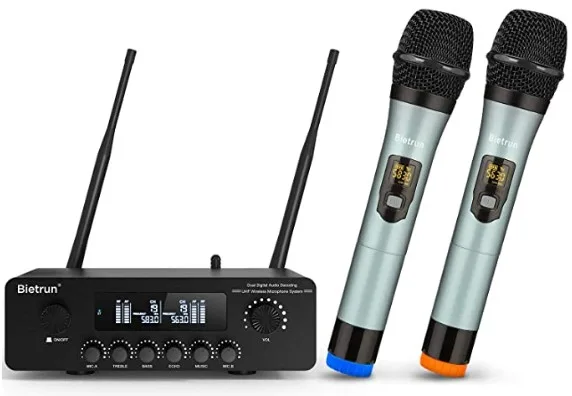 This is a Plug and Play karaoke mixer that is easy to set up. Its receiver is powered by USB, and it can be powered by the included UL-certified plug or power bank.
The mixer's microphones only need 2 AA batteries for power. The handheld microphones have adjustable frequency making them easy to use while moving around.
The mixer has a wireless signal that uses enhanced detachable antennas that provide a signal range of up to 160feet/50m. In addition, the external enhanced Bluetooth antenna extends the Bluetooth audio coverage to 64feet/20m.
The mixer also features a Treble/Bass/Echo Control Knob that allows you to choose between different microphone sound effects. It also comes with a 1-year warranty and free replacement service.
Features
Signal: UHF and Bluetooth.
Features: Echo, Treble, Bass.
Microphone Material: Metal.
Working range: Wireless microphone: 160 feet(50m), Bluetooth: 20m.
Microphone modes: Uni-Directional (Cardioid).
Input: Coaxial /Optical/3.5MM(1/8") input.
Output: 3.5MM(1/8")/6.35MM(1/4") output.
Receiver Power: 5V-1A USB cable (UL plug/power bank).
Pros
Easy to setup
Adjustable echo
Compatible with multiple devices
1-year warranty
Cons
The micro USB port is fragile
Conclusion:
The soundbar and the karaoke will not work perfectly together as their designs prevent them from being compatible. The soundbar is designed to transmit music and movies without any alteration in its transmission.
As a result, using a soundbar with a karaoke machine will not produce the desired sound.
Especially if you use sound alteration features on your karaoke machine, to have a seamless karaoke jam session and use all your karaoke machine features, you need to use a karaoke mixer with a soundbar.