If you have a flat TV, then a regular speaker's look is bound to clash with your entertainment space's overall aesthetic. Mostly if you have limited space, regular speakers can hog up plenty of room and make it look cramped. Even regular soundbars that are on the larger side can still create an appearance of limited space.
To ensure that you get to maximize your space, you should look into getting an ultra-slim soundbar. Not only will it look sleek and compliment your TV, but it will also make your entertainment center look less cluttered. Additionally, slim soundbars still deliver quality sound output like regular speakers and standard-sized soundbars.
Here are the thinnest soundbars in the market currently.
Top 5 Thinnest Soundbar in the Market
Polk Audio Signa S2 Ultra-Slim TV Sound Bar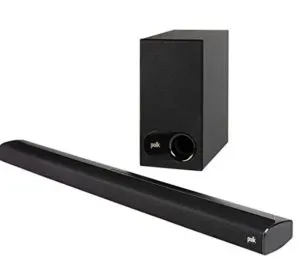 This slim soundbar features five powerful full-range drivers that deliver rich sound with deep bass. The soundbar is equipped with Polk's exclusive Voice Adjust Technology and Dolby Digital Decoding to maximize sound clarity and reduce voice delays.
The soundbar has numerous connection possibilities that allow you to plug in any audio source via HDMI ARC, optical input, and AUX. It also features a built-in Bluetooth that allows you to wirelessly stream music from your favorite streaming apps like Pandora, Spotify, TuneIn, and others directly from your smartphone, tablet, or other compatible devices. Lastly, it comes with a subwoofer, HDMI, and optical cables. You can also quickly connect your TV to the soundbar and get set up and listening in minutes.
The soundbar is 2-inches tall, and it can be mounted on a wall or placed on a TV console. You can also place it in front of your TV without risking the IR remote sensor obstruction. The soundbar is guaranteed to deliver crystal clear sound with allows you to watch your favorite shows on your 4K HD Smart TV while experiencing a full sound spectrum.
Features
Color: Black
Item Weight: 3.9 Pounds
Five powerful full-range drivers
VOICE ADJUST TECHNOLOGY
Dolby Digital Decoding
Height: 2″
Audio connections: HDMI ARC, optical input, AUX
Compatible with Pandora, Spotify, TuneIn
Built-in Bluetooth technology
Pros
Maximizes sound clarity
Reduces voice delays
Numerous connection possibilities
It comes with Subwoofer, HDMI, and optical cables.
Cons
Not compatible with some TV brands
Check Price
Sony HTCT390 Ultra-slim Sound Bar with Bluetooth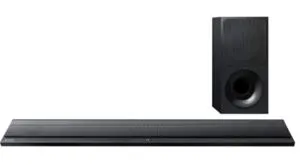 The Sony Ultra-slim soundbar allows you to connect to audio sources wirelessly and stream music easily via Bluetooth and NFC. You can also stream and control right from your smartphone using the SongPal app.
The soundbar features a Dual-position, wireless subwoofer for flexible setup. The wireless subwoofer works both upright or horizontally anywhere in the room, which is ideal if you need a flexible setup.
Check this too: How to Reset Your Soundbar
Additionally, the wireless subwoofer delivers impressive sound and booming bass. You can control your TV and soundbar with a single remote via HDMI ARC. The soundbar has a space-saving, wall-mountable design that makes it a convenient addition for small spaces.
You can also connect a USB device to the USB port to enjoy audio playback. The soundbar only measures 2-inch and can discreetly mount onto walls to save space. It also lies flat in front of the TV without blocking the screen or interfering with IR receivers.
Features
Color: Black
Speaker Type: Surround Sound
Control Method: Remote
Item Weight: 4.16 Ounces
Wireless connection: Bluetooth and NFC
1 channel
2-inch design
Output Terminals: Optical Input, Analog Input, USB
Pros
Space-saving
Wall-mountable design
Single remote
Cons
Check Price
Sony S100F 2.0ch Soundbar with Bass Reflex Speaker

This is one of the best small soundbars that money can buy. It features a built-in Bluetooth, a built-in tweeter, and a bass reflex speaker. And the Voice enhancement feature is excellent for TV content with hushed dialogue.
It is also ideal for making conference calls due to voice clarity capabilities.
This 2-channel speaker is easy to set-up, and its slim design matches any room and is perfect for small living spaces.
The kit contents include; Remote Commander (RMT-AH411U), Batteries for the remote commander, Cable (Optical Cable, AC Cord), Wall Mount Template, Warranty Card, Quick Setup Guide, and an instruction manual.
It is equipped with S-Force Pro Front Surround that allows you to hear sound come from all around you. Its bass reflex speaker also delivers a deep bass sound.
Features
Color: Black
Control Method: Remote
Built-in tweeter
2-ch speaker
Bluetooth connection
Bass Reflex speaker
Connection: HDMI ARC, USB, or Bluetooth
Pros
Easy to set-up
Slim design
Wall mountable
Multiple connection options
Cons
Check Price
Yamaha YAS-109 Sound Bar with Built-In Subwoofers

This Yamaha active soundbar features built-in subwoofers for deep bass. It is easy to set up using HDMI or Optical connections. It is equipped with Clear voice technology for enhanced dialogue clarity. The soundbar has a built-in Alexa feature that allows you to control it via voice prompt.
The voice control enables you to play music, listen to the news, set alarms and timers, ask questions, and control smart home devices remotely. You can also use it to stream music from Amazon music and more. You can also play music and podcasts through Spotify Connect, Wi-Fi, or Bluetooth.
Check this too: Best Soundbar Without a Subwoofer
Additionally, the DTS Virtual:X enables the soundbar to deliver surround sound for an immersive movie theatre experience. And the Dual Built-in Subwoofers will allow you to experience deep, rich bass without the need for an additional subwoofer.
Features
Color: Black
Control Method: Voice
HDMI or Optical connections
Output power: 120W
Alexa built-in
Spotify Connect, Wi-Fi, or Bluetooth
Dual Built-in Subwoofers
DTS Virtual:X
Sound Bar Controller App
Pros
Easy to setup
Built-in subwoofers
Deep bass
Enhanced dialogue clarity
Cons
Wi-Fi connection is a hassle.
Check Price
LG 320W 4.1ch Slim Sound Bar with Wireless Subwoofer and Bluetooth- NB4543

The LG mini soundbar is a 4.1 channel soundbar that delivers premium sound at a fraction of a regular-sized speaker. It features four specially engineered speakers plus a subwoofer that creates a virtual surround effect.
It is easy to set up, and it can stream music directly from your smartphone or other compatible devices for a seamless listening experience. You can also connect your TV using an HDMI cable for an optimal movie-watching experience.
Features
Color: Blue
Speaker Type: Subwoofer, In-Wall, Soundbar
Power Source: Corded Electric
Wireless Subwoofer
Connection: Bluetooth, Optical cable, HDMI,
Remote Control
Soundbar Size: 33.1″ x 1.37″ x 3.2″
Pros
Bluetooth enabled
Wall mountable
Multiple connection options
Cons
Check Price
Conclusion
The best ultra-slim soundbar should still deliver quality sounds like a standard speaker and slim soundbar. It should also be easy to set up and have multiple connection options. It should be wall mountable for convenience and to save space. Lastly, it should work with subwoofers if you wish to use it as a receiver.