In the age of the cloud, NAS is gaining popularity as a data storage solution for businesses and homes. Synology NAS is one of the best brands that make some of the most user-friendly and efficient servers currently in the market.
However, if the in-built Synology streaming packages are not satisfactory, you can install Plex Media Server. Plex allows you to centralize and stream all your music, TV shows, movies, and access to your media in a single interface available everywhere. But you cannot watch your latest videos and shows until the library has updated.
Unfortunately, Synology doesn't allow you to update Plex from within the Web dashboard because it runs as a service. The solution is to force Plex to update manually. First, you have to download the update, stop the Plex service, run the new server update, and restart the service.
This article will give you a step-by-step guide on how to update Plex on Synology NAS. We will also suggest some of our favorite Synology models for Plex.
Update Plex Media Server on Synology
Open your Plex server on your computer.
Click on the Settings icon on the top right corner of the screen.
Go to the left column and click on "General." The screen will show the current Plex version you're running. Next, look for the update notice with a download link.
Click on "please install manually" to download the update file onto your PC.
Sign in to your Synology server.
Open "Package Center."
Click on "Installed" in the left column.
Click "Plex Media Server."
Press the down arrow button next to "Open" and click "Stop." You have to stop the server before updating Plex.
Go to the top right panel of the Package Center window and press "Manual Install."
Click on "Browse" and find the update file downloaded on step 2.
Press "Next."
Press "Yes."
Click on "Apply" to install the update.
You can now go back and run your Plex server.
How to set up automatic updates on Plex installed to Synology
If manually updating your Plex server is a hassle, you can automatically update Plex with the help of Plex Server Auto Updater on Synology when it runs as a service. The Plex Server Auto Updater will do the following actions for you:
Download and verify the latest Plex Media Server update.
Stop the Plex service.
Stop any Plex processes that are running.
Install the latest update.
Delete the Run keys from the registry to prevent Plex Media Server from running outside the service.
Stop any Plex processes that are running after the update.
Restart the Plex service.
First, you need to install and set up the Auto Updater app, then adjust the update settings. But since the Auto Updater app installs the Plex Media Service stops and restarts the service, it will require an administrator's account to work. So here's how to set up the Plex Server Auto Updater and run it.
Download the most current release of Plex Server Auto Updater.
Create a folder, then extract all the files from the downloaded zip file into the folder.
If you're running Plex as a standard user;

Right-click the psupdate.exe file.

Choose the "Run as administrator."

Enter the administrator's password.

If you are already an administrator, double-click the psupdate.exe file.
Is a Synology NAS good for Plex?
Yes, most Synology NAS devices work particularly well with Plex Media Server since they have the best DiskStation Manager software in the industry. However, the Synology models you choose can impact how efficient Plex works.
When selecting a Network-Attached Storage(NAS) device for Plex use, you must consider certain features. Plex requires a NAS with a powerful CPU, 4 GB DDR4 or 2 GB DDR3 RAM, 4 or 5 drive bays, RAID configuration, high transfer speeds, and multiple connectivity options.
The Synology has the best NAS devices for Plex for several reasons: they have user-friendly interfaces that are easy to use, economical with an ultra-fast bandwidth, and unlimited traffic.
Best 4 Synology servers to deploy Plex
Synology has the most recommended servers to host your Plex service. But choosing the Synology NAS device for Plex can be quite challenging, especially initially. So here are our four favorite Synology servers compatible with Plex.
1. Synology DiskStation DS920+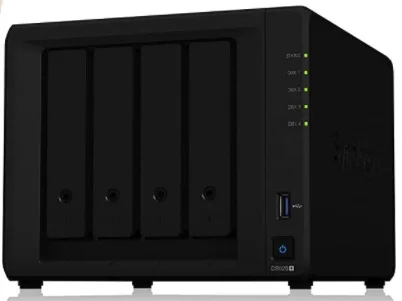 The Synology DS920+ is an upgraded DS220+ with the foundational unit of two Gigabit Ethernet, USB 3.0 ports, and an eSATA port at the rear. It has a faster processor than the Intel Celeron J4125 and has no problems transcoding 1080p media. In addition, it has enough bandwidth to store large 4K files.
Features
Series: DS920+
Drive Bays: 4
Digital storage capacity: 4 GB (expandable up to 8GB)
Hard disk interface: NVMe
Read speed: 225 Megabytes per second
Pros
Excellent for Plex Media Server
It transcodes 4K files properly
Ample storage of 64 TB
Cons
Pricey
Fewer DRAM slots
No 10GbE ports
2. Synology DiskStation DS220+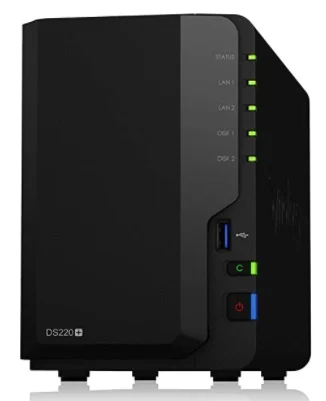 The DS220+ is excellent for media streaming. It is also the best two-bay NAS for home networks, with 32TB of storage across the two drive bays. Synology DS220+ is powered by an Intel Celeron J4025 chipset and 2GB of DDR4 RAM. In addition, this server has two Gigabit Ethernet ports with link aggregation; you can bridge these ports and make double date transfers.
Features
Series: DS220+
Drive Bays: 2
Digital storage capacity: 2 GB(expandable up to 6GB)
Hard disk interface: Raid
Read speed: 225 Megabytes per second
Pros
Sufficient storage of 32 TB.
It can handle 4K streaming, transcoding, and Plex.
It has up to 32TB of storage across two drive bays.
Cons
No eSATA port for expansion
No SSD caching
3. Synology DiskStation DS1520+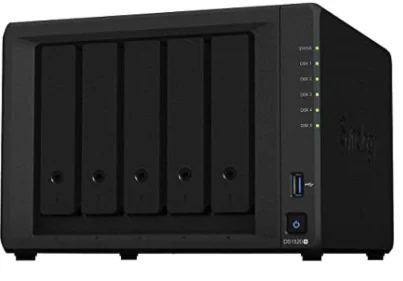 The DS1520+ is a five-bay NAS device that can accommodate up to 80TB of storage, suitable for small businesses and high-end Plex servers. You can also add up to 10 bays via two eSATA ports. It comes with two M.2 slots, but you can only use it for SSD caching and not storage. Unfortunately, it has no HDMI port, but you can substitute it with DLNA or Plex to stream media to your TV.
Features
Series: DS1520+
Drive Bays: 5
Digital storage capacity: 8 GB non-expandable
Hard disk interface: NVMe
Read speed: 451 Megabytes per second
Pros
It is ideal for high-end Plex servers and small businesses and organizations.
It has several business-oriented features.
Extendable via two eSATA ports
Cons
No HDMI port
No 10GbE LAN option
Check Price Here
4. Synology DiskStation DS220j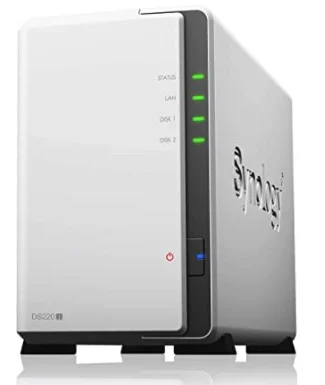 The DS220j is the best budget-friendly Synology NAS. A two-bay model offers 32TB of storage across both bays with 512MB RAM. The installation and setup of Plex on Synology DS220j are quite straightforward. While it works well with Plex, it will give you issues transcoding 4K videos. It has no drives, but we recommend investing in 4TB IronWolf drives for storage.
Features
Series: DS220j
Drive Bays: 2
Digital storage capacity: 512 MB non-expandable
Hard disk interface: RAID
Read speed: 115 Megabytes per second
Pros
Reasonably-priced
Runs very quiet
Solid performance and great software features
Cons
No drives
Not great at transcoding 4k videos
Only one LAN port
How to update Plex library on Synology server
You can update your Plex library automatically and manually. Although an automatic update is convenient, you need to know how to update the Plex library to force an immediate update manually. Here's how to update your Plex library both ways.
Manual Plex library update
Go to your Plex Media Server and log into the web control panel.
Choose one of your libraries on the left-hand navigation column on the main page.
Select the circular arrow icon in the upper right corner of the library. The manual update will occur, and the Plex Media Server will re-examine the directories allocated to that library.
Repeat this process for all libraries you want to update.
Automatic Plex library update
Open your Plex Media Server and open the settings icon in the upper right corner of the screen.
Select "Server" along the top navigation bar.
Select "Library" on the left-hand navigation panel.
Click the "Show advanced" tab to expand the library options.
Check the box that suits you the most from the Library settings menu. Check the "Update my library automatically," and all library folder will update automatically.
Conclusion
With Plex, you will not need other streaming services like Hulu, Netflix, or Prime Videos. Instead, Plex requires a sturdy server like Synology to allow you to create your streaming library on your home network so that you don't have to use other services. Furthermore, you can now automatically and manually update Plex on Synology to help you stay up to date with your videos and shows.