Travertine flooring is great for outdoors and indoors due to its durability and variety of colors. Regularly cleaning and polishing your travertine flooring is one way of maintaining its durability. However, travertine's porous nature makes it vulnerable to staining and damage during cleaning. This characteristic also means that it requires special care when cleaning.
To properly clean dirty travertine floors, sweep or vacuum to remove loose dirt, mop using a mixture of water and travertine cleaner with a neutral pH and then allow the floor to air dry. You can periodically polish and seal travertine to maintain its shiny luster. Read the article below for more detailed cleaning instructions and precautions to take when cleaning travertine surfaces.
What is the best cleaner for travertine?
To avoid ruining your travertine floors, you should use commercials cleaners formulated for travertine or stone. Manufacturers label these cleaners for use on granite, marble, or soapstone. The ideal travertine cleaners should be soapless, mildly abrasive, and with a neutral pH of 7. Harsh and acidic cleansers can damage the glossy finish or erode the surface and grout joints.
Occasionally, you can remove oil or grease spills using liquid dish soap by pouring a few drops in your cleaning solution when deep cleaning your travertine flooring. It should be mildly abrasive, phosphate-free, and biodegradable. Do not use dish soap regularly as it will leave soap streaks or cause soap residue to build upon the floors.
You should avoid general floor cleaning products because most are acidic or have citrus extracts and contain bleach or ammonia. Do not use household chemicals such as white vinegar or lemon juice to clean travertine floors. These harsh cleaners will damage the travertine, dull the surface and discolor them permanently. Some of the best travertine floor cleaners that we recommend include:
Diamond Stone & Tile Intensive Cleaner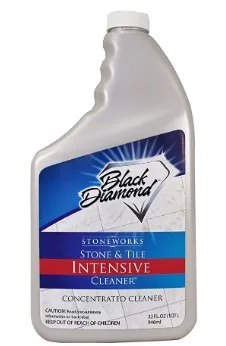 The Stone & Tile Intensive cleaner is excellent for lifting dirt and soil deposits out of the pores of natural stones. It also cleans deep-seated dirt from all polished surfaces without damaging the stone.
Features
Biodegradable.
Neutral pH.
Safe for deep cleaning without damaging the stone.
Pros
It safely cleans other stones such as natural stone, ceramic, porcelain, and marble.
It does not leave soap residue.
Safe to use around pets and children
Cons
May not remove permanent discoloration.
2. Granite Gold Stone And Tile Floor Cleaner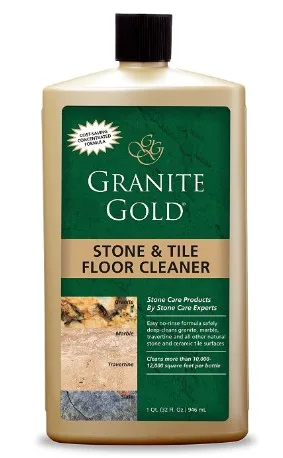 The Granite Gold Stone And Tile Floor Cleaner is a concentrated stone cleaner that removes dirt and grease without steak marks. It is ideal for cleaning up spills quickly as it requires no rinsing. Some users report that t gives a dull finish, and you may have to buy the Granite Gold Polish
Features
Biodegradable
Phosphate-free
Neutral pH
It contains no ammonia.
Pros
It has no sticky residue
It requires no rinsing when used without soap.
Cons
It may give a dull finish on travertine.
3. Stone Care International Granite Cleaner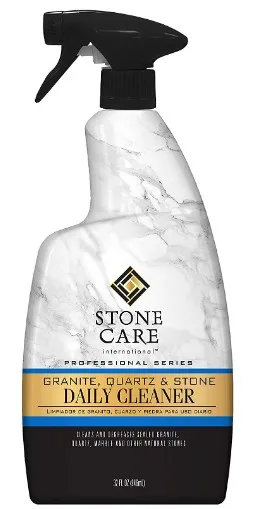 This travertine cleaner is ideal and gentle for your daily use on your sealed stone surfaces. It is also effective on grease and oil stains. Some users report that it may leave some streaks on specific stones, but its neutral pH will not make your surfaces dull with continued use.
Features
Neutral pH
Non-abrasive
It contains no ammonia or phosphates.
Pros
It is non-toxic
It can easily remove grease and oil stains.
Gentle for daily use.
Cons
It may leave streak marks.
How do you deep clean Travertine floors?
It would be best if you deep clean travertine floors at least once a week to prevent the build-up of dirt or stains that can permanently discolor or damage the stone.
Things You'll Need
Stone or travertine cleaner
Broom or vacuum cleaner
Mild disinfecting dish soap(non-acidic)
Microfibre mop
Bucket
A small soft-bristled brush for grout
Clean microfibre towels
Baking soda
Water
Directions
Remove all the loose dirt and debris from the floor to avoid scratching the travertine surface by sweeping with a broom or vacuum cleaner.
Fill a bucket with warm water, add your travertine-friendly cleanser according to the instructions on the label.
Add a few drops of mild disinfecting dishwashing soap to disinfect the floors and remove any oils and grease stains.
Place the microfibre mop in the cleaning mixture, wring it and move the mop side to side to clean the floors. Do not soak travertine floors with water as it may seep through the stone, causing discoloration and mold and mildew to grow.
Repeat the cleaning process until you cover the whole area. If the water gets dirty mid-way, make a fresh cleaning solution and clean the rest of the area.
Spray some grout cleaner on the grout lines to remove dirt and grime that sticks on the grout.
Alternatively, make a paste of equal parts baking soda and water. Apply the paste on the grout lines and scrub along the grout lines with a soft-bristled brush. Scrub gently not to damage the grout lines. Baking soda is mildly abrasive, gentle on stone, and also a disinfectant.
Rinse the floors with clean water. Dip the mop into the bucket with clean water, wring and clean the travertine.
Use a soft cotton microfibre cloth to dry the travertine to prevent streak marks.
How do I make the travertine floor shine?
Over time, travertine surfaces become dull and hazy due to their porous nature. To give your travertine flooring a consistent shine, you need to polish and seal the surface. Polishing or buffing with a travertine polisher or buffing machine will raise the sheen, while sealing with a travertine sealer will protect and maintain that shiny luster for longer. You have to apply a sealer to your floors every three to five years. For a glossy finish, you should use the sealer more often, and for a weathered look, you should use a natural surface sealer and seal less frequently.
Things You'll Need
Travertine sealer, for example, Aqua Mix Sealer's Choice Gold Quart
Buffing machine and multiple buffing pads.
Polishing powder(optional)
Wet vacuum
Broom
Cotton mop
Travertine cleaner
Directions
Clean the floors using a travertine cleaner and a cotton mop and scrub off any grime from the grout.
Dry the floor with a dry lint-free cloth and allow it to air dry completely.
Wear safety goggles and a face mask.
Cover all the doorways into the room. Close the air vents in the room to prevent any dust from spreading throughout the house and open windows for ventilation.
Remove any moveable furniture from the room.
Cover the edges of any immovable furniture with tape to prevent damage from contact with the buffing machine.
Attach a low-grit (100-grit) diamond pad to the bottom of the buffing machine and then connect the buffing machine to power.
Move the buffing machine over the floor evenly. This step will remove scratches and level the surface.
Change the grinding disk to a higher grit( 200-grit) and continue buffing the floor in a circular motion. Repeat the process with higher grit pads ranging from 800 to 8500 until you achieve your desired smooth sheen.
Alternatively, you can use a polishing powder instead of using multiple buffing pads. Sprinkle the polishing power and work it with the recommended buffer on the label.
Mop the floor with clean water to remove dust and dirt.
Dry the floor with a dry cotton cloth or a wet vac, and then allow the floor to air dry.
Apply an even coat of travertine sealer according to the instructions on the product label.
Allow each coat to dry for at least 30 minutes, wipe off any excess sealant before applying another coat. The sealer will cure fully after 24-48 hours.
Conclusion
Travertine is structurally strong, but you have to maintain the stone by regular cleaning with the right cleaners. Sweep or vacuum your travertine floors daily and do a deep cleaning weekly. Remember to use a non-abrasive travertine cleaner and a cotton mop to prevent corroding and scratching the travertine. Polishing travertine floors occasionally and sealing it will maintain its glossy finish for longer.