Self-sharpening knives are a good choice for any kitchen. You won't go through the hassle of sharpening now and then. For the regular knives, no matter how sharp they are when buying, they become dull after prolonged usage. As part of maintenance, every knife requires sharpening. But for the self-sharpening knives, they are so unique; they remain sharp forever.
Each moment you take out your knife to use, it's already sharpened. Each storage slot contains ceramic sharpeners that sharpen your knife accordingly. This technique keeps your knife ready to use, with optimal cutting level and quality for a lifetime. Your knife automatically sharpens whenever you slide the blade in or out.
How to Use Self-Sharpening Knives
For the sharpening feature to work, you need to draw the knives out of their slots by pulling them out and angling them down at the same time. The sharpener is at the slot's base, so if you remove the knife from the slot with an upward angle, then the blade won't contact the sharpener. Finish around one or two pulls through the ceramic sharpener in the spaces. If you do this technique, you will always have sharp knives every time you want to use them.
Are Self Sharpening Knife Sets Good?
Yes. Self sharpening knives are a worthy investment for any kitchen. The fact that your knife will always be sharp whenever you reach for it makes chopping and dicing a breeze. You will enjoy your time in the kitchen and preparing meals will no longer be as frustrating as trying to chop up a ripe tomato with a dull knife.
Even though self sharpening knives always retain a razor-sharp edge, this might come at a cost as the constant sharpening erodes the cutting surface. While this might be a problem on regular knives, most self sharpening pieces are made of high-quality durable steel. They will hold their own for years and you won't have to worry about replacing your self sharpening knife every now and them.
All in all, a sharper blade means less cutting effort. Dull blades will always require extra energy for you to cut, even on simple recipes. As you struggle to push your knife through, you may end up having blisters or even injuring your fingers. Again, you will end up wasting time while using the dull blade. Therefore, it's best to consider having a self-sharpening knife.
What is the Best Self Sharpening Knife Set?
Proper maintenance and care for your knives are vital in keeping your tools in tip-top shape. Self-sharpening knife sets allow you to use them regularly with no worry of becoming dull. These knives are the best for any cook and busy kitchens. Let us find the best three self-sharpening knife sets.
Farberware 13 Self Sharpening Knife Set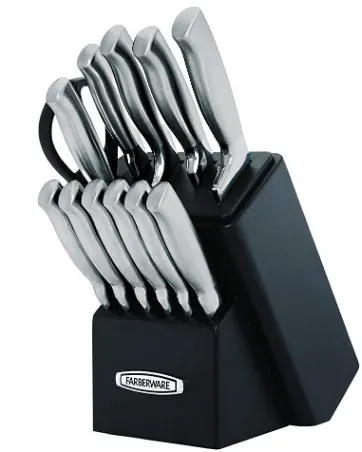 Farberware knife is a budget-friendly self-sharpening knife set that comes with 13-pieces fit for advanced and straightforward recipes. The set comes in an ergonomic design that captures attention in your kitchen. Farber has high carbon stainless steel and comfortable handles. This set includes two chef knives with kullens, a slicer, a serrated utility knife, six steak knives, and kitchen shears.
Pros
Affordable
Good looking set
Durable design
Edge keeper self-sharpening technology
Comfortable to use
The knives are single pieces, and this eliminates the hassle of riveting.
Cons
Must wash the knives manually and dry them before storage.
Calphalon Classic Self Sharpening Knife Block Set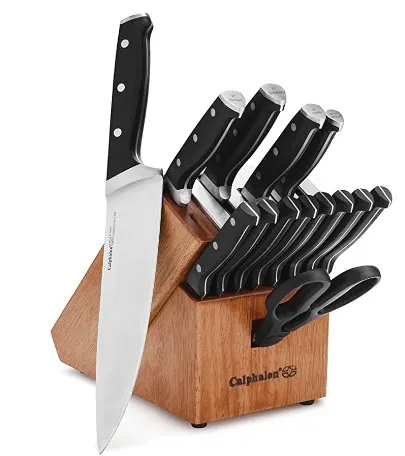 Calphalon is a great company that makes many self-sharpening knife bocks. The company uses SharPin technology to keep your knives constantly sharp. Calphalon knives are easy to use for slicing, dicing, mincing, and cutting. The set has enough blades to meet your objective, whether to cut up fruit, dice vegetables, or more.
The set has an elegant wooden block that features ceramic sharpeners in each slot. The knife handles have triple-rivets extra security and have contours for an excellent secure grip. The blades have a full tang, thus very strong and durable. The set has an added advantage of a lifetime warranty in case of a manufacturer's defect. Calphalon also comes with a full lifetime warranty.
Features
8-inch Chef's Knife.
8-inch Bread Knife
6-inch Utility Knife
7-inch Santoku Knife
3.5-inch Paring Knife
8 Steak Knives
Kitchen Shears
Knife-Sharpening Wood Block.
Pros
Forged steel with high carbon content
Full tang blade
Great knife selection and variety
Full lifetime warranty
Include scissors as well
Amazons' Choice product with many reviews
Handles allow for easy identification
Handles are comfortable
Cons
You can only do hand wash.
The ceramic sharpeners can wear out too quickly
It comes in one color
Sabatier Cheap Self-Sharpening Knife Set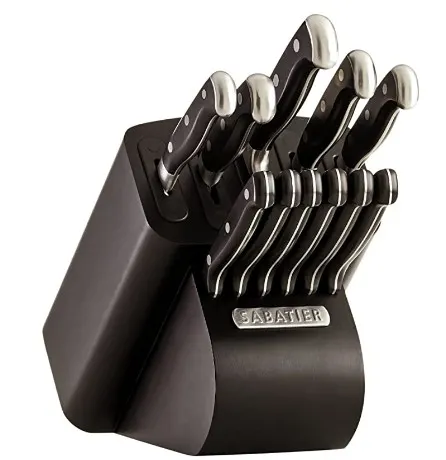 The block has 16 professional knives and has a modern finish, elegant-looking bamboo set. The knives contain high-carbon stainless steel, which makes the blade stain and corrosion-resistant. The knives are incredibly sharp, and even after prolonged use, they remain the same.
Each handle has stainless steel, thus durable and sanitary. The handle also has a hollow structure that makes the knives lightweight. The stainless-steel handles have an attractive design that warrants their durability and sanitation. You will enjoy using the knife due to the comfortable handle.
Features
8-inch chef knife
8-inch slicer knife
5.5-inch serrated utility knife
5-inch chef knife with Cullens
4.5-inch fine edge utility
3, 5-inch paring knife
Eight flatware-style knives
A pair of all-purpose shears
Stylish bamboo storage
Pros
Comfort grip
Lightweight knives
Edge keeper sharpening technology
Extremely sharp and resilient
High-quality knives
Well-prices with excellent features
Attractive satin finish
Cons
Requires hand wash with warm water
Conclusion
Having a never sharpen knife set is the best choice to make for convenience in the kitchen. Knives with strong blades, lightweight, stain, and corrosion-resistant make you have the best cooking experience. You can cut, slice or dice any food effortlessly without wasting time on sharpening. Please choose your favorite brand of knife set and ensure to take good care of it.