Outdoor soundbars bring the music, radio, and podcasts that we love to the places we like: the backyard. The best outdoor soundbar brings good moments for your family while enjoying summertime or even guests when having a party.
Pairing wonderful music with your outdoor sound system during warmer months takes the entertainment experience to another level. Therefore, the best way to bring your favorite music outside is by purchasing the best outdoor soundbar.
Let's take you through a list of best-rated outdoor Bluetooth speakers for you to choose your favorite.
Samsung HW-LST70T 3.0 Ch Terrace Soundbar

If you are looking for something more home theater oriented, you can go for the impressive but often rare Samsung HW-LST70T. Samsung has this unit optimized for outdoor use and will project the sound in a way it is easy to hear regardless of the ambient sounds.
With an IP55 rating, it is resistant to dust and water, making it a better option for outdoor use compared to a traditional soundbar.
Apart from the adaptive audio driver that optimizes sound for different applications, it is a full three-channel unit with the center channel, left and right speakers all in one. This guarantees a decent audio experience, way better than what you would get from inbuilt TV speakers.
It gives you some of the best connectivity in the outdoor soundbar category. You get Bluetooth streaming, Network streaming, Wireless TV connection, and an HDMI port.
If you have the Samsung SmartThings app and another Samsung device, you can control the soundbar via the app and stream audio from any device in the network to your soundbar seamlessly.
What we love
Beautiful design that makes it fit into the home setting better
A DSP to adapt the audio to different scenes and ambient noises
A bevy of smart connections, including WiFi streaming, Bluetooth, and HDMI
What we don't like
Samsung didn't produce many of them. Getting your hands on one can be a bit tricky
Boss Audio Systems BRT26A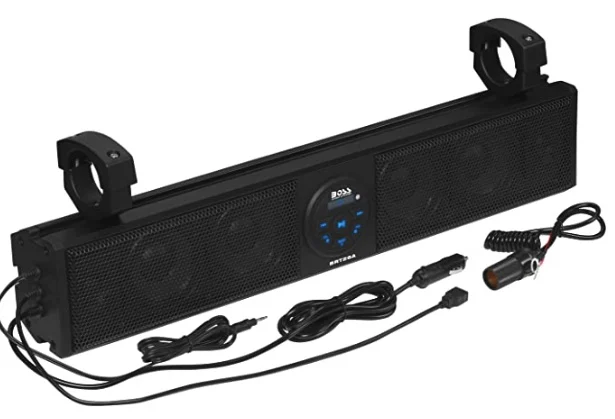 This Boss Audio soundbar is designed to go on dune buggies, jeeps, and even boats. Their rugged nature and exposure to the elements testify to how resilient they can be.
Even though it is not a traditional home soundbar, it will still get the job done and beam high-quality audio on your patio, deck, or gazebo. The four 4" speakers handle the midrange decently, while two soft dome 1" tweeter adds the high end for a lively finish.
Even though it won't go that low, the IPX5 weather rating is really what matters in this situation. You can listen to your tunes without worrying about splashes, dust, or mild rain showers.
Again, the car-oriented design means you get a 12V power plug, 3.5mm coax, Bluetooth, and a USB port.
You can stream audio from your smartphones, a TV with an audio-out port, and Bluetooth. This will limit connection options from TV, DVD, or gaming consoles – but again, with such a soundbar, you are not looking for hi-res audio through digital inputs like HDMI and Optical Toslink.
What we like
Ruggedized design
High weather and water resistance (can resist low-pressure water streams from any side)
Installation hooks make it easy to hang on an exposed roof, rafter, or even a tree branch
Easy installation (if you have a 12V power source)
USB and Bluetooth connectivity makes it easy to stream music on demand
What we don't like
Finding a 12V DC source in a house means getting a power adapter which is a bit cumbersome
The lack of high res input options might be a bummer to some purists
BOSS BRT14A Bluetooth Speakers
Boss is the best outdoor speaker that comes with fantastic sound quality and bass. This soundbar enables you to stream and control your favorite apps wirelessly from a smart device. Again, it features a built-in class D amplifier, Bluetooth connectivity, and RGB light.
You can still play music by using the 3.5mm AUX-in jack just next to the USB port. The RGB illumination, which is the change of dome light colors, looks incredible, especially at night. The speaker has the latest weatherproof techniques with IPX5 rating that ensures high performance even when the going gets a bit wet.
Features
Audio streaming
3.5mm AUX input
300 watts Max Built-in Amp
Class D Amps
IPX Rating
LED light bar
Wireless remote control
Multi-angle adjustable clamps
Pros
Easily installed by plugging into 12V power source
It's weatherproof
Generates more power
Cons
Affected by high speed in the vehicle
Lacks bass
BenqBot Portable Soundbar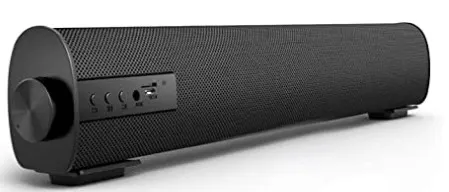 Benqbot is an outdoor and indoor soundbar, thus creating a unique brand that meets all your entertainment needs. The bar comes fully equipped with Bluetooth technology, remote control for adjustments, four different methods of connection, and more. The various connections allow the soundbar to access a more extensive assortment of other devices, thus more entertainment.
Features
Dynamic full-range sound
Connects wired or wirelessly
Powerful stereo speaker
Stable Bluetooth connection technology
Pros
It gives a bass boost
Bluetooth enabled
Small and lightweight
Works with PCs and TVs
Comes with a remote control
It's small in size, thus saves space
Cons
Pyle PWPSB2402 24 inch Marine Soundbar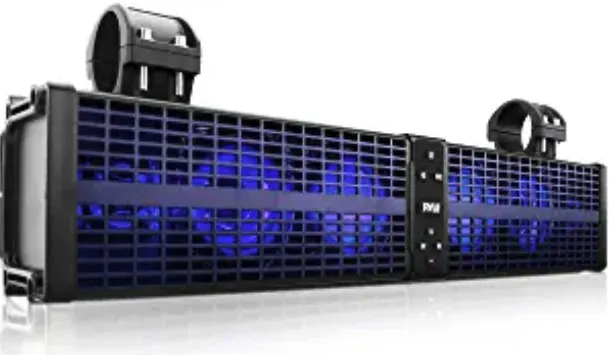 Once again, we go back to marine soundbars to find a weatherproof soundbar. The Pyle PWPSB2402 is built rugged and meant to be on an ATV or a boat. While the ruggedness might make it look out of place on your patio or pool deck, it will get the job done.
Check this too: LG Sound Bar How to & Troubleshooting Guide
The IPX6 waterproof rating and weather-resistant grill mean you never have to worry about it once you hang it outdoors and out of sight.
For inputs, you get A2DP audio streaming via Bluetooth, 3.5mm aux input, and an RCA output to another soundbar or a subwoofer.
The speaker has a decent audio output and is pretty loud. The midrange is amazing, and the highs are very clear. However, if you love thumping deeps, you will want to hook it up to a subwoofer to get the bass going.
What we love
Compact size but a very large sound for its size
The mood lighting can bring the night to life
Perfect for outdoor parties and ambient music
Bluetooth streaming is good enough for casual listening
What we don't like
It is DC powered, so you will need an AC to DC adapter to power it
No home theater-oriented connectivity like HDMI and Optical audio inputs
Conclusion
For a great sound of music for your family, a movie session, choose the best outdoor soundbars. The excellent option home theatre system should have high bass, fantastic equalizers, best sound quality, weatherproof techniques, and more. From the list above, choose your favorite outdoor speakers for a great entertainment experience.