Since Wemo jumped into the smart home fray in 2012, they churned out an array of smart plugs, switches, and video bells that are hard to ignore.
The Wemo Smart Plug is a great way to add some automation to your home, especially on devices that aren't smart to start with.
Like with all smart things, there are a couple of things you won't know how to use right off the bat. There's also the possibility of things going wrong somewhere down the line.
Don't worry. This comprehensive how-to and troubleshooting guide will teach you to master your smart plug in no time. We will focus on the following plugs:
Wemo Smart Plug With Thread
Wemo WiFi Smart Outdoor Plug
Wemo Wifi Smart Plug
Wemo Mini Smart Plug
How to Install a Wemo Smart Plug
Like other Wemo smart home devices, all smart plugs are designed to be plug and play. You have to plug them into a wall outlet, connect them to your WiFi, and modify them.
Prerequisites to Set Up a Wemo Smart Plug
Before configuring your smart plug, start by ensuring that your smartphone is set up correctly to set up the smart plug. You will need:
Get the latest Wemo app on your smartphone and open a Wemo account
Confirm that your Wemo smart plug supports Apple HomeKit. You'll see a HomeKit code label at the back if it does
Connect your mobile device to the same WiFi you want to connect your WeMo device to
Disable Smart Network switch on Android and WiFi Assist (these services disconnect your device from WiFi and use the cellular network if the WiFi connection has no stable internet connection)
How to Setup a Wemo Device that Doesn't Support Apple HomeKit
Plug the Wemo plug to power it up (if your wall outlet have UK style switches, ensure that it's flipped on)
Launch and log into your Wemo app
After logging in, you will be redirected to a page with your linked devices.
If you have none, you will get a prompt to add a new Wemo device
Go to your smartphone's WiFi settings and connect to the default Wemo WiFi
After connecting, open the Wemo App again
You will be taken straight to a configuration page. Give the Wemo plug a descriptive name and tap next.
You will get a prompt to connect the device to your home WiFi. Select your home WiFi and enter the password when prompted
After it is connected, you will be redirected to your Device list, where you can see your Wemo devices.
You can now connect your smartphone to your home WiFi, and you can see and control your new Wemo smart plug.
From now on, you can move on to using your smart plug normally. If you want to add more plugs that don't support HomeKit, tap the + icon at the top right and repeat the procedure.
Setting Up a Wemo Device that Supports Apple HomeKit
Plug the Wemo plug into a wall outlet
Launch the Wemo app and log into your account
Tap the + icon to go to the screen with existing devices
If you have no devices, you will be prompted to add a new Wemo device
Choose the type of device you want to add
Select the specific device from the options
Since we already plugged the plug, Tap on 'It's plugged in.'
Locate the HomeKit code sticker on the device in the user manual and click on 'I Found It.'
Tap on 'Let's Scan' to scan the QR code
Alternatively, if you don't have the code or can't scan it, you can select the 'Enter Code' to type in the code manually.
Wait until the device is added to your account.
Customize the name, set room location, and type before tapping done
You will then be redirected to your device list. You will have added the device to your account successfully.
ProTip: Sometimes, your Wemo plug setup might get hung up. This often happens when the plug switches from plug wifi to home wifi. If this happens, factory reset the plugin and repeat the process. Check the reset section below on how to do this.
How to Reset a Wemo Smart Plug
While Wemo smart plugs will keep working year in year out, there comes a time when you have to reset your plug. You could want to reset it to clear errors or if you're going to change its account and details.
We will give you resetting steps that apply specifically to Wemo Mini Plug and Wemo Smart Outdoor plugs. They can still use the steps to other smart plugs with the proper modifications.
Launch the Wemo app and tap on Edit
Select the Wemo plug you wish to reset
Tap on 'Reset Options'
Select the option you want to reset
Clear Personalized Information
This option deletes custom information like rules and the plug's name without affecting other configurations. It is an excellent option if you want to move it to another room or location but still use the same network.
Change WiFi
This option is helpful if you want to switch networks. It is handy if you're going to hook it up to a different router or change the logins in your WiFi network.
Factory Restore
This deletes everything and restores your Wemo plugin to how it was when you first bought it. This is perfect if you are giving out the plug or selling it. It will not have personal information, making it easier for the next person to set it up.
How to Reset Your Wemo Smart Plug Without the App
You can still reset your plug even if you cannot access the smart plug via your Wemo smart plug. This is common if you deploy a second-hand smart plug whose logins you don't know.
Press and hold the power button and plug the Wemo smart plug into a working wall outlet
Keep holding the power/side button until the plug LED starts flashing white rapidly.
The LED will then start flashing white and orange, signifying that the factory reset is complete and you are ready to set up the plug fresh.
Some plugs will turn the LED red after holding down the button for 10 seconds to signify a successful reset.
How to Change WiFi on Wemo Smart Plug
If you change your router password, you will have to update the information in the Wemo smart plug to reconnect it.
You can do this by either:
Using the Wemo app to reset WiFi settings and enter the new WiFi details specifically
Factory reset the smart plug and start configuration from scratch if you can't access it on your app
How to Fix the Wemo Not Connected Problem
If you encounter the Wemo plug or device not connected, chances are:
The plug has lost power due to a power outage, or someone pulled it from the wall outlet
You changed your WiFi password
The WiFi range is not so good, and the plug cannot maintain a constant connection.
Where the WiFi password is the problem, you can factory reset the plug and configure it a fresh using the new WiFi password.
If you suspect the WiFi range is terrible (the plug keeps popping in and out, and it's installed very far from the router or access point), consider using a mesh network solution to provide full WiFi coverage in your home.
ProTip: A WiFi extender might get the job done, but it is less reliable at keeping devices connected to the same network than a mesh network solution.
How to Fix the Wemo Not Connected Error
If an issue like a power cut or WiFi disconnection interrupted the initial setup procedure, you would get the Wemo not connected error.
You can fix the problem by factory restoring the plug and going through the setup procedure again. Just ensure you don't interrupt it until it is complete.
How to Use Google Assistant With Wemo Mini WiFi Plug
Even though Google Home doesn't list Wemo smart plugs as supported, you might be tempted to think you can only use them with Apple HomeKit.
This isn't the case. You can still use the WeMo plugs with Google Assistant and even automate them by combining Google Assistant with IFTTT.
ProTip: Even though Google Home doesn't support Wemo, Google Assistant does. Since Google Home can integrate with Google Assistant, you can use this compatibility chain to connect your Wemo plug.
Here is how to connect your plug to Google Assistant
On your smartphone, launch the Wemo app and navigate to My Account
Select 'Connect to Our Smart Home Partners'
You will see Google Assistant in the list of supported apps. Select it
This will pop up Google Assistant on your smartphone. Tap on the profile photo on the upper right and select settings
Select assistant
Under new or Linked services, select Wemo
Select connect account if it is the first time or Reconnect if you had done it before
Allow Wemo access in the popup.
Please tap on the newly added device and add it to one of the rooms in your Google Assistant app.
The Wemo plugin will now be listed in the Google Home room you just assigned it to
You can modify its name and definition to help you remember what it controls, making it easier to use.
Even though you could not add the plug straight to Google Home, Google Assistant provided a clever workaround that will let you control the plug as you wish.
You can now use voice commands to control the plug. For instance, if I wanted my plug to power on the Crown XLS1502 amplifier powering my dual subwoofer set up in the home theater, I would say:
'Hey Google, turn on theater subwoofers'
You can also configure other scenes like instructions incorporating your Wemo smart plug and have it turned on or off automatically, depending on what you want to accomplish.
Why is the Wemo Smart Plug Upgrade Failing?
Wemo by Belkin tries to push firmware updates by notifying you through the smartphone app. Ideally, applying an update should be as simple as tapping the 'Update' button in the Wemo smart plug content menu or accepting an update prompt.
While this happens, there are times when your updates will hang, and the smart plug will fail to update.
Basics to Consider for a Successful Update
Here are some primary basics you must cover to reduce the chances of an update hanging on you.
Ensure that the Wemo plug is powered and switched on
Avoid trying an update if there is a scheduled power outage
Ensure that you have a steady internet connection
Ensure your mobile device is connected to the same WiFi as the Wemo device and disable smart network settings that might automatically switch the device to Cellular
Ensure your Wemo app on the smartphone is up to date.
Why Updates Keep Failing and What to Do About it
Here are a couple of things you should consider if your Wemo smart plug (or any smart device) updates keep on getting stuck.
Check that the Plug Didn't Lose Power.
A power failure will interrupt an update leaving your device stuck. You can avoid this by plugging it into a UPS or a backed-up power outlet. Luckily, the smart plug doesn't draw much power when running its system without powering any hardware. Finding an uninterrupted power supply that can power it is easy.
Alternatively, if you live in a place where power blackouts are rare, you can factory reset the plug (check procedures we outlined earlier on) and repeat the update.
Restart Your Device
If you get the message saying firmware update is in progress, but the device is unresponsive and remains stuck here for almost half an hour, you can restart it using the smart app controls.
Restarting it from within the app could give it a chance of successfully applying the update.
Check Your Internet Connection
Just like power, an intermittent internet connection or a very slow connection could interfere with your device.
If the plug or your smartphone gets disconnected during the process, the plug can't finish updating and will get stuck.
Reset the Plug
Resting a Wemo plug is the only way to fix a stuck update. Since it won't boot enough to function on the smartphone app, you cannot use your mobile app. You can still reset it by:
Pulling it out of the power source and letting it sit for around five minutes. Plug it back. This will reset it and trigger the update prompt again.
If the above doesn't work, perform the manual factory reset by plugging it into power while holding onto the Power button for at least 10 seconds.
How to Install an Update After Missing the Update Prompt
If you missed an update pop-up or want to repeat an update after getting your plug unstuck, you will have to pull up the option from within the app.
The procedure varies depending on whether you run the app on iOS or Android.
Installing a missed update in Android
Tap on the Settings gear icon on the top left. Chances are it will have a red dot signifying a missed update.
This will take you to the settings menu. Firmware Update is the first option.
Click on Get Update
Installing a missed update on iPhone
Tap on the Three Dots More icon at the bottom right of the Wemo app
This will take you to the settings menu, where you can follow the similar update procedure outlined for Android users above
What to do if all Wemo devices don't update
If you are updating multiple devices at a go from within the apps, there is a chance that one or more could get stuck in an update loop. Here is how to fix this.
Identify the Wemo smart devices that updated successfully and unplug them
Go over the devices that missed updates and ensure they did not lose power and have a stable connection to the WiFi
Close the Wemo app and ensure it's not running in the background
Open the Wemo app and log into your account
You will get a popup notice for an update, click yes to proceed, and apply the update to devices that did not update
If you don't get the popup, you can still use the manual procedure above to launch the updates.
ProTip: If one or more devices keep getting stuck, use the steps outlined in the 'why is my Wemo getting stuck in an update' to get over the upgrade loop and get the device updated successfully.
Why is Alexa Not Detecting Wemo Smart Plug?
Apart from using Google Assistant to beam audio commands to your Belkin's Wemo smart plug, you can also configure it to work with Alexa.
Check this too: PlayStation 5 How to and Troubleshooting Guide
How to Add Your Wemo Smart Plugs to the Amazon Alexa App
To issue audio commands to your smart plug, you will need it linked to your Amazon Alexa app. You will also need a Alexa device to receive and relay the instructions. The Amazon Echo is an excellent place to start.
Prerequisite: You should have already added your plug to your Wemo account on the Wemo app. If you haven't, check out the guide we provided earlier on in this piece.
With that out of the way, now it's time to add the plug to your Amazon Alexa App.
On your smartphone, launch the Amazon Alexa app
Tap on the devices option
Select smart home skills
Select enable smart home skills
Tap the search icon and enter 'Wemo' in the search field
Select Wemo from the list of results
Tap on Enable to use. You will be prompted to log into your Wemo account
After successful login, Amazon Alexa App will request access to control Wemo devices. Allow Access
After successfully linking, you can tap Done and go ahead to discover Amazon Alexa compatible Wemo devices
How to Detect Wemo Devices on Amazon Alexa
Once you have linked your Amazon Alexa app to Wemo, you can normally use the Alexa app. To detect new devices, you will have to navigate to the native Alexa Discover devices menu.
After tapping on discover devices, Alexa will start scanning for and finding new Wemo devices. This could take up to a minute, so be patient.
When done, it will tell you how many devices were discovered and give you the choose devices option. Tap on it to proceed.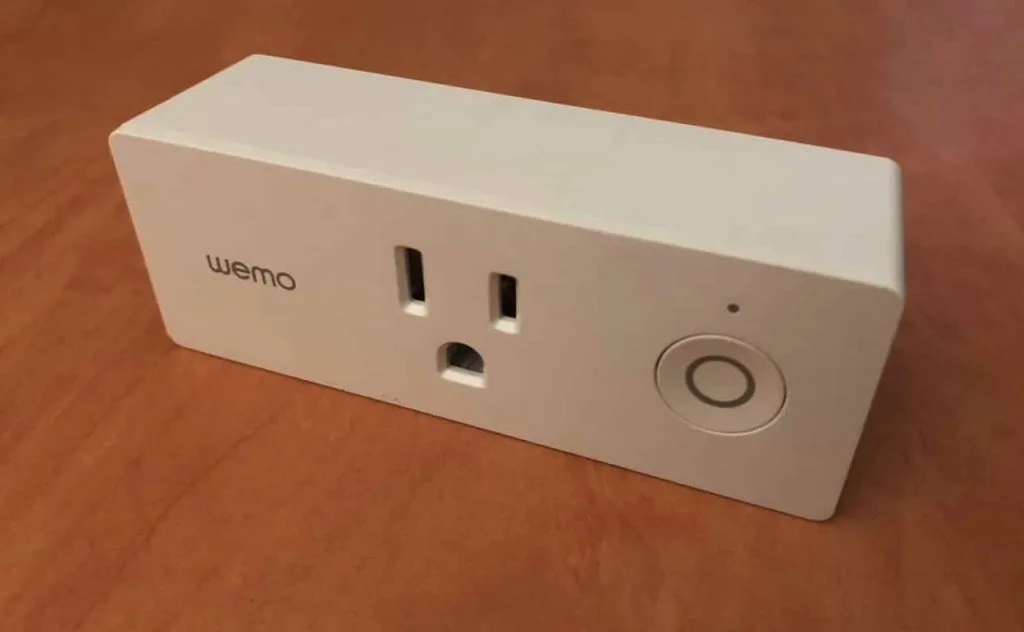 Select the device you want to set up and tap on Set Up Device. If you have multiple Wemo plugs, you will have to configure each individually.
What to Do if Alexa Doesn't Detect a Wemo Smart Plug
Sometimes, Alexa might fail to detect a Wemo smart plug. This mostly happens when you try to add it to Alexa for the very first time. Here are some things that could cause the issue.
Your Wemo plug is off. Confirm that the smart plug is on (the status LED is working) and connected to your home network. A good way to confirm this is ascertain that you can access it from the Wemo app
Ensure that your Smartphone has an active internet connection
Try rebooting your router or modem
Reboot the wemo plug
Ensure that you are not using a VPN or your ISP doesn't deploy a VPN
How Do I Tell if My Wemo Smart Plug is On
Your Wemo smart plug has a status LED that tells you if the plug is on or what it is doing during start-up.
The LED should be on regardless your plug is on and receiving power.
Wemo Plug LED Blink Codes and Their Meaning
Belkin's Wemo only has an on-device LED to tell you what the device is up to. This is important for troubleshooting especially when you can't find the smart plug on your app or it is unresponsive.
Here is a comprehensive look at what different blink codes and colors mean.
| | | |
| --- | --- | --- |
| Blinking Color | Applicable Device | Description |
| Orange | Wemo smart plug Wemo bridge Wemo insight Wemo link | Cannot connect to WiFi or is having trouble connecting to WiFi |
| Red | Wemo light switch Wemo dimmer Wemo WiFi 3-way light switch | Cannot connect to WiFi or is having trouble connecting to WiFi |
| White/Blue/Red | Wemo light switch Wemo dimmer Wemo WiFi 3-way light switch | Restart/Reset/Reboot. Press and hold the power button until the status LED glows desired color for the function you want |
| Orange and White | Wemo mini smart plug Wemo bridge | Setup mode. When you plug in a new Wemo device or after resetting a device to factory setting. Singifies ready to set up |
| Green and Orange | – Wemo Link | Setup mode. When you plug in a new Wemo device or after resetting a device to factory setting. Singifies ready to set up |
| Blue | Wemo dimmer Wemo light switch Wemo WiFi 3-way light switch | Setup mode. When you plug in a new Wemo device or after resetting a device to factory setting. Singifies ready to set up |
| Green | Wemo Link Wemo WiFi smart light switch Wemo insight smart plug | Starting up: Happens if the device is ON or reset Updating firmware: After initiating firmware update |
| White | Wemo light swtich Wemo dimmer Wemo bridge Wemo WiFi 3-way light switch | Starting up: If you start up or reset a device Updating firmware: Blinks to show upgrade is in process |
How Many Rules Can Be Set on a Wemo Mini Smart Plug?
Your Wemo mini smart plug can accept multiple rules as long as they are not mutually exclusive. Since you can program in different schedules for different days of the week, you will have multiple cycles and the number of rules it can take shouldn't be a bother.
Note: You can have multiple rules on a single device. More than enough to program a weekly schedule into your device
Some smart programming will let you turn things on and off using the smart plug without writing too many rules. Here is some ideas.
If you want frequent on and off cycles, set timers to turn the plug on and off after a while
If you want it to turn on as a conditional, use HomeKit, Google Assistant or IFTTT to handle the logic and trigger the plug when necessary
Use away mode for randomized on and off sessions
You can still set multiple instructions if the above shortcuts won't get the job done. For instance, you can set a plug to turn on in the morning when you wake up, run until you leave for work and finally turn back on when you return in the evening.
Where are Wemo Smart Plug Rules Stored?
After setting and applying rules in the Wemo app, they get pushed and stored in the target Wemo device. This means that your device can run the rules perfectly even when not connected to your smartphone.
You still get a copy of the rules in your smart app that you can apply to new or replacement devices to reduce time spent setting up.
How to Set Up Your Wemo Smart Plug With Nest
If you already have a Nest learning thermostat or hub, you would be right to ask if the Wemo smart plug works with Nest.
The good news is yes. It does. Your smart plug will work with a Nest Hub and the Nest Hub Max. All you have to do is set up the device in the Wemo app, give it a name and reference to that name from within your Nest.
Also, since we've already highlighted how to connect your Wemo to Google Assistant, you shouldn't be worried about compatibility.
Here's how to do the setup
Ensure that your Wemo smart plug is already fully set up and has a name in the Wemo app
Turn the Wemo plug on and plug a device into it to draw some power. A phone charger or a light should do
Open your Google Home app and navigate to 'Account Settings
Select the 'Set up or Add' option
Select 'Set up device'
Select 'Have something already set up' (that's why we insisted you finish setting up the Wemo smart plug first)
From the connected services list, scroll to W and select Wemo
You will be taken to the Wemo screen. Tap the Ready to Verify option
This will take you to a screen with instructions and a two-minute timer
Go to the Wemo plug and turn it on if it is off, turn it off if it is on
After this, tap on the timer to confirm that you did something. Google Home uses this to confirm that you have access to the smart plug you want to add to the account
Select 'Yes that was me'
You will be redirected to your Google Home and the device will be in the devices list
Add it to the Google Home build where your Nest device is
You can now control your plug with audio commands or by tapping instructions on a smartphone that is part of that Google Home setup.
The audio instructions can be piped in from your phone, or any Google Assistant voice compatible device connected to the home like a Nest Hub, Nest Thermostat, or even a Chromecast With Google TV.
How Many Amps Can a Wemo Smart Plug Handle?
All Wemo smart plugs have overcurrent protection and will cut off every time you draw more current than they can handle.
Most Wemo smart plugs will draw a maximum of 15 amps. The power in Watts will vary depending on whether you are in the US with 110 volts mains on in countries with 240V mains.
ProTip: The 15 amp rating is similar to what your regular wall outlets produce. Wemo smart plugs are good enough for anything that you would plug into a traditional wall outlet (not the high current outlets in the kitchen or garage)
What Can You (And What Should You Not) Plug into a Wemo Smart Plug?
You can plug any device whose peak current isn't above the plug's maximum current rating (15 amps in most cases)
Check the stickers on the device you want to plug in and see the maximum power the device will ever draw. I prefer keeping the load two amps below the max Wemo plugs can handle just to be safe.
Be Wary of Surge Current Draws
Like anything with a motor or massive capacitors, induction loads draw a huge initial current. For instance, you might have a pump or saw rated at 1500 watts but surges to 3000 watts when starting.
Keep such loads to less than half of what the plug can handle.
To get power in Watts, use the formula Watts = Amps x Voltage
e.g
15 x 120 = 1800 Watts ( A 15 amp Wemo plug on 120V mains can handle an 1800 Watt load)
15 x 240 = 3600 Watts ( The same plug on 240V mains can handle 3600 watts)
Here is a quick glance at common devices and if you can plug them into your Wemo smart plug.
| | | |
| --- | --- | --- |
| Device | Use/Not Use | Reason |
| Coffee maker | Yes | Most home coffee makers draw less than 15 amps and have no surge current. |
| Light bulb | Yes | Home light bulb and security lights rarely draw over 15 amps – unless it is a high end flood light |
| Water pump | Be careful | Water pumps have a surge current. Be wary of how high it surges and ensure it is something the plug can handle |
| Fridge | No | Fridges have their own on/off control. Adding a smart plug is redundant and will throw it off |
| EV charger | Depends | Unless it is a slow 15 Amp charger, don't use it with the plug |
| Audio Amplifier | Yes | You can, it won't overload the plug. But it should be a system that defaults to ON when it detects power |
Why is My Wemo Smart Plug Not Responding?
In most cases, Wemo smart plugs fail to respond when updating programming or setting it up for the first time.
Even if it is not responding, chances are it will keep on executing loaded programming unless there is a power outage. This is because Wemo smart plugs store Wemo app programming to their memory so that they can keep working offline.
Wemo Smart Plug Not Responding When Programming
When programming your smart plug to the Wemo app, your smartphone communicates it straight through your home WiFi. This reduces complexities compared to when you try to control it using Google Assistant or Apple HomeKit from outside your home.
Here are some of the things that could stop it from responding
The Plug is Off
Smart plugs are inaccessible if they are off. Pressing the power button on the Wemo plug will either switch it on or off. That will override any controls via the app or a smart home assistant.
Ensure that the plug is on and the status LED is showing.
There's a Power Outage
A power outage will have the same result as turning the plug off. It will drop out off the system and remain unresponsive until power is restored. If it happens when doing a firmware update, you might be prompted to repeat the update or have to reset the device to get it out of the loop.
It is No Longer Connected to Your Home Network
Since the plug communicates to your smartphone or Smart Assistant via a network, it will drop out if it is no longer connected to your home network. A connection to your router is good enough for the Wemo app if you have your smartphone connected to the same router.
However, smart assistants and automation tools like IFTTT will need an active internet connection to work.
Some problems include
The plug is having trouble connecting to your WiFi. You will see the respective error code LED light. Restart the router and wait
You changed the password on your WiFi network (restore network settings and connect with the new password)
WiFi coverage isn't strong enough and keeps dropping out
Your internet connection is down
Your router is overloaded in a busy network
You Have a Hungup Update
If anything disrupts the plug's power or internet connection, chances are it will be hung up on an update.
You will have to restore factory settings and start configuring the smart plug again before using it in your smart home setup.
Wemo Smart Plug Not Responding to Smart Home Assistant
If you are using a smart home assistant, you will need an active internet connection to operate it efficiently from your home.
Apart from this, the above prerequisites for home network use apply. If you have one of those problems, the plug won't respond or will not appear in your list of devices.
An Overloaded Router
Building a smart home with multiple smart devices can be tasking to your router. While your traditional ISP modem router is enough to pipe connections to a couple of smartphones, a TV, a gaming console, and a computer.
However, it will become a bottleneck once you throw in a smart thermostat and 20 or so other home automation gadgets.
If you want to launch a smart home, consider upgrading your router first. Don't rely on what the ISP gives you. Chances are, you will encounter dropouts and hanging devices if you build upon it. If you are on a budget, try out the TP-Link Archer A9.
Why is My Wemo Smart Plug Not Detected?
Your Wemo smart plug won't be detected if it is not powered on or if it is not connected to your home network. You will also not detect it if:
You have not added it to third party smart home assistants like Alexa or Google Home
Your smartphone isn't connected to the same WiFi network as the smart plug you are trying to detect
Wemo Smart Plug Does Not See Home WiFi During Setup
Connecting your Wemo smart plug to your home network should be simple. However, your device won't detect your home network if:
You have hidden your WiFi name (SSID)
You are configuring the plug in a room with low or no coverage of your home WiFi
Your WiFi is on 5 GHz, and the Wemo smart plug only uses 2.4 GHz WiFi
You are trying to connect it to enterprise networks, Cafe networks, a cellular hotspot, or a network whose name has Chinese characters.
Your router is broadcasting on a congested channel. Try changing to get a less congested channel
Your router is already maxed out on the number of clients it can handle
To be on the safe side, try setting up your Wemo smart plug as close to your router as possible. Also, ensure that the router broadcasts the SSID and that it is a 2.4 GHz WiFi.
Wemo Smart Plug Will Not Turn on With Google Home
Sometimes, you can go through the configuration process and add a Wemo smart plug working with Google Home, but the connection will be severed after a while.
The plug will still display as connected and will correctly list its status, but you won't have the power to turn it on or off either by tapping on the phone or through audio instructions.
If that's the case, you will have to reset the device and restore it to factory settings. Check the section we did about resetting your Wemo plug before.
After resetting it, go through the setup process in the Wemo app before proceeding to add it to Google Home via Google Assistant. We also outlined the procedure earlier on.
ProTip: Ensure that you have selected the correct House/home with the plugs you want to control. If you have another home selected, you either won't see all your smart devices, or you can't control what you see.
In most cases, you will get the 'Set up Device' prompt every time you try to use the errant Wemo smart plug.
Wemo Smart Plug Timers Setup Not Working
If your Wemo smart plug isn't hanging up and you successfully pushed the timer instructions, it should keep working as long as it has access to power and there is no brownout.
Timers will seem to fail if:
You made a mistake when configuring the times.
Another mutually exclusive running timer or another smart assistant instruction overrode the timing.
The timer settings did not save to the device as you thought due to a network problem when you were saving.
The device it's controlling draws more current than it can handle; hence the plug keeps going on overcurrent protection.
Wemo Smart Plug Not Detected after Power Failure
Wemo smart plugs don't always handle reboots after a power outage as gracefully as we all would like. Sometimes, they will connect to WiFi just fine and come online, while at other times, they will fail to reboot and connect gracefully.
Plugs on timers or away mode will keep working randomly, but you cannot access them via any home automation service or the Wemo app until you do a reset.
Resetting is as simple as pushing the reset button on the plug or unplugging the Wemo smart plug for 10 seconds before plugging it back on.
ProTip: I noticed that the plugs fail to connect to the router if they finish booting before the router is ready for wireless devices. It's like the Wemo plugs attempt connecting once and don't try again if they can't find the WiFi connection and get an IP address in the first few attempts.
Wemo Plug Fails to Connect to Multi AP WiFi
If you have a big home, chances are you have different wireless access points. Some people give these different access points similar SSID names and passwords so that devices can switch between access points at will.
While this works for smartphones and other devices, it often confuses Wemo plugs. They will detect the access points differently and fail to latch onto one.
The solution is switching off the weak signal APs and restarting the plug. Once it connects to an access point, you can reset the others.
ProTip: Running your network on multiple access points and WiFi extenders is not as effective as creating a mesh network. Mesh network solutions or an access point with a wider range will give you a less troublesome network for your smart home devices.
Will a Wemo Smart Plug Work With a Coffee Maker?
Yes. A Wemo smart plug should work with a regular home coffee maker. They don't draw enough power to trip the smart plug, meaning it will run just fine once the plug turns on.
Remember to keep the coffee maker topped up with water and ground coffee; otherwise, the plug will turn it on when there is no water in the heating element, which is dangerous as it could cause a fire.