When you look at your walls, many questions cross your mind, and one of them is: can textured walls be smooth? If you love flat surfaces, it is possible to remove swirl texture, although the process is not a ride in the park. That why it is essential to acknowledge the necessary steps to get rid of thick textured walls.
Understand that scrape and soak process is the best way to remove wall texture that has not undergone painting. On the other hand, skimming the surface with drywall compound is the best for a painted texture.
Check this too: How to Remove Oil Stains from a Kitchen Wall
Paint acts as a repellant against water; thus soaking would not be a good idea. Since skimming entails an excellent touch, you will have to be patient and allow more hours on each wall. If you are ready for the process, here is a guide on how to remove popcorn texture from walls.
Method one – Scrape and soak unpainted texture
Use a canvas drop cloth to cover the floor and tape up exposed trim. This is to prep and protects the wall. Plastic drop clothes are not good enough due to their slippery nature.
To soften the texture, you need to fill a pump sprayer with water and spray the entire wall. This should take effect more than once to ensure that it saturates. When it's soft enough, then you can scrape.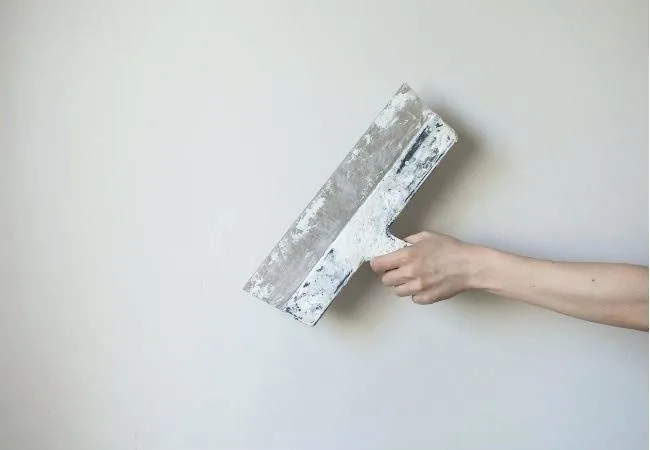 Scrape the softened texture starting from the very top of the wall to the bottom. Using a drywall sander to remove texture can do well in removing the sand texture. It must fit with a drywall sanding screen for quality results.
Method two – Skim coat for painted texture
Take the baseboard to form the wall. You can remove the baseboard by prying it outward using a putty knife. You may need to tap the head of the knife with a hammer to make it more effective. It is advisable to protect yourself from falling wall texture. This can get through by wearing goggles or use old clothing which you can discard once you are through.
If the paint is glossy, no need to worry, apply light sand on the surface of the painted texture. However, in most cases, wall paint is not glossy, so the step might not be that necessary.
Removing dirt or dust that might have accumulated on the wall will allow room for a clean palette. You can use clean rags to wipe the surface of the wall.
Check this too: How to Paint a Deck With Peeling Paint
Take half a gallon of premixed drywall compound and place it into a five-gallon bucket. Add water into the compound bit by bit. Mix the compound until it turns out to be free of lumps.
Use a large paint roller pan to distribute the mixture on the wall. This will be messy, and the compound will drip all over the place. At this stage, it is advisable to recruit a helper. Let the compound dry completely and sand the wall with sanding sponges to come up with a perfect texture.