One of the areas in the kitchen which regularly gets dirty is the walls, especially near the cooker. It takes a short period for the area to get oil stains which can be a bother to remove. However, there are many different ways to clean away this, both DIY and using store-bought grease cutters. You may need to combine other methods when the stains are more challenging, but eventually, you can get rid of them. The following guide will help you clean your kitchen walls for the best results.
How to clean oil stains from painted kitchen walls
Most kitchens are usually painted, and many people do not know how to clean the surface without affecting the paint. Since it is the most common type of wall in kitchens, the options for removing oil stains are more.
Before starting to get oil off painted walls using any method, it is best to start with some precleaning to get rid of the stains that you can. One way to do this is by blotting off some grease using a dry absorbent cloth or paper towel. Next, dab the paper towel on the oil stains to remove the dirt that hasn't stuck on the surface. Avoid smudging the oil to other areas, so only use patting movement in this step. Once this is done, you can use the following methods to clean.
Baking soda
It is one of the most common and effective cleaners that is found in most homes. It is a great option to use since it doesn't damage the paint while cutting through the oil stains. You will need the following:
Warm water
Sponge
Baking soda
Measure one cup of water and three tablespoonfuls of baking soda and make a paste. Ensure that you adjust according to the size of the surface that you will clean. Spread this mixture all over the wall generously and allow it to sit for 10 to 15 minutes. Use a damp sponge to remove the paste from the wall, rinse using warm water and leave it to dry. If the stain was really old, you might need to repeat to remove it entirely.
Check this too: How to Clean Wooden Kitchen Cabinets
Vinegar
White vinegar is an excellent grease cutter, and as a plus, it also disinfects surfaces, so it is a must-have in your kitchen. It can also get rid of smoke marks on your walls, so it is the best option to deal with different stains. For this, you will need:
White vinegar
Spray bottle
Sponge
Add the white vinegar into a spray bottle and spray it generously on the wall and allow it to sit for at least five minutes. It is best not to water down the vinegar when cleaning since it reduces its potency. Use a sponge dampened with vinegar to rub off the oil stains. Do this repeatedly until you remove all the dirt from the wall.
Borax
If you have some borax handy, it is another excellent natural way of removing oil from kitchen walls. You will require the following:
Borax
Lemon juice or vinegar
Sponge
Warm water
The idea is to make some paste that you will apply on the walls. For this, you need borax and an acidic agent to cause a reaction. You can use lemon juice, but it is more practical to use white vinegar if you are cleaning a large surface. First, apply the paste to the greasy areas and allow it to sit for at least 10 minutes. Next, use a damp sponge to remove the paste from the walls and rinse with warm water. Repeat this process until you have clean walls.
Ammonia
Household ammonia is powerful in removing oil stains without removing paint. You will need the following:
Ammonia
Baking soda
Warm water
Sponge
Spray bottle
There are two ways you can use ammonia to clean oil marks from your kitchen wall. First, you can mix ammonia with baking soda to make a paste that you should work into the stain. Another method is by combining the ammonia and baking soda in a spray bottle, spread on the walls, leave it to sit for 10 minutes, and clean up.
Both methods work well for cleaning stubborn marks, so you choose which one is best. You can use this if the other methods don't work entirely on your stains since ammonia is a more powerful grease cutter. Once you have removed the ammonia mixture from the wall, rinse using warm water and allow it to air dry.
How do you clean a wooden kitchen backdrop?
If your kitchen backdrop is wooden, you will need to be careful not to use anything that will damage the surface. For this reason, you should avoid using water and ammonia since the surface can absorb moisture, and ammonia may damage it.
Vinegar or a citrus cleaner is best to get grease off the kitchen backsplash. Add some vinegar into a spray bottle and spread it all over your wooden backdrop. Use a sponge to gently rub the surface and wet it using the vinegar if need be. Repeat and work your way through the stains until you are satisfied with the results.
What is the easiest way to clean kitchen wall tiles?
Kitchen wall tiles are the easiest to clean since they do not react to most homemade cleaning solutions. To clean tiles, you will need:
Warm water
Dishwashing soap or detergent
Sponge
Mix half a cup of grease-cutting dishwashing soap in a gallon of water. Soak the sponge in this solution and use it to wipe off the stains. The oil stains should come off immediately, so it shouldn't take long at all. Next, rinse the surface with some warm water while checking that all the grease has come off.
What is the best degreaser for the kitchen?
While the natural DIY methods are an excellent option for cleaning your kitchen walls when you have limited products, nothing beats a good degreaser. However, there are many great options online, so it may be challenging to decide on one that will deliver the desired results. The following are the top-rated store-bought solutions for your kitchen.
Krud Kutter 305373 Kitchen Degreaser All-Purpose Cleaner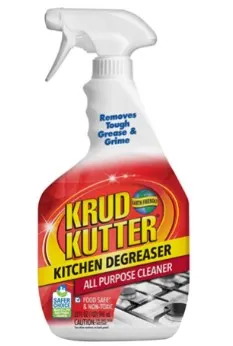 It is one of the highly-rated all-purpose cleaners due to its effectiveness. It is perfect for use on all surfaces in your kitchen, whether painted or tiled. Spray on the area you want to clean, leave it for five minutes and wipe clean.
If you want the best results, ensure that you spray directly on the stain, so the solution works on it. You don't need to wait for it to work for simple marks, you can wipe it immediately, and it will be good as new.
Pros
It is a non-toxic formula that is ready to use
It leaves behind no residue
It is fragrance-free
Certified by the EPA
Cons
Should not be used on varnished surfaces
Puracy Multi-Surface Cleaner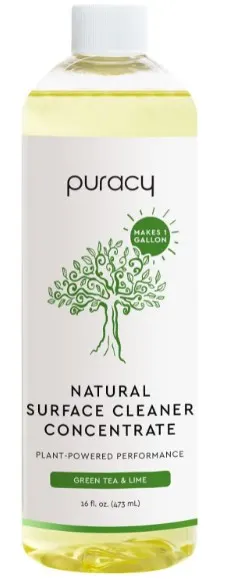 It is rated as the best multi-purpose cleaners by the New York Times. The formula is plant-based that works on all types of stains, including oil marks on any surface in your home. Experts and doctors have tested it for years, so it is safe to use in your home, and it will not affect babies or pets.
To use it, you only need to spray on the area you want to clean and wipe immediately. It doesn't need to soak up the stain, but you can leave it for a few minutes for stubborn stains. It wipes clean leaving behind no steak or residue. The formula has a fresh lemongrass scent that leaves your home smelling fresh.
Pros
It is certified by experts
Works on all surfaces and appliances at home
It is plant-based
It naturally breaks down within a month
It is chemical-free
Cons
It is not safe for use on fabric
Spray Nine 26832 Heavy Duty Cleaner/Degreaser and Disinfectant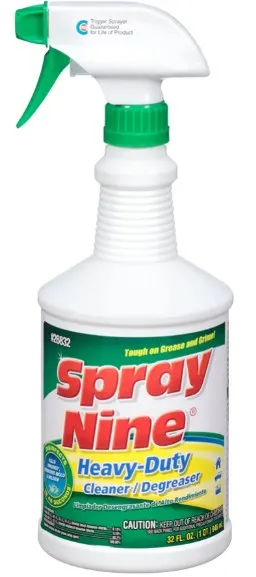 If you prefer your degreaser also to have antibacterial properties, the Spray Nine is the best option. It is a heavy-duty cleaner that will degrease not only your walls but also other surfaces in your home. The formula has been made easy to use on all surfaces in your home, including wooden and varnished ones.
It is a professional grade cleaner that works by spraying, leaving for about five minutes, and wiping the area clean. The disinfectant properties work within 45 seconds of spraying, so you don't even have to wait long to wipe the surface. In addition, it instantly removes oil stains on any surface and deodorizes the kitchen so you won't have to deal with bad odor.
Pros
It cleans bacteria and viruses
It is an all-purpose cleaner
Cuts through old grease stains
Cons
The scent may be a bit strong
Cleaning the kitchen walls often seems like difficult work that someone may have to do for long hours. However, it is all about finding the best products that work on the oil stains and putting in a little effort. If the DIY methods are not working out for you, there are plenty of store-bought degreasers like the ones above that will make the work even easier.