An air fryer cooks food using a fraction of the grease you use on the traditional fryer, which means it helps you enjoy crispily and a bit healthier food. But to enjoy this food with less oil and fewer calories, you need to keep the fryer clean. Regular cleaning involves wiping and rinsing the basket, pan, tray by hand. You can also set them in the dishwasher if the components are dishwasher-safe. Again, occasionally deep clean the fryer to remove sticky grease from the air fryer basket.
Air Fryer Cleaning Hacks
Before deep cleaning your air fryer, learn the dos and don'ts of air fryer maintenance.
Avoid using metal utensils, abrasive sponges, or steel wire brushes to remove food particles and residues from your air fryer; it could damage the non-stick coating.
Don't submerge the air fryer in water. The main component is an electric appliance, and moisture can ruin it.
If the appliance has a foul odor smell, put half lemon in the basket and let it sit for 30 minutes before cleaning.
Avoid using strong detergents as they can damage the fryer instead of cleaning and protecting your cookware. Dish soap and water are enough, or consider buying simple green all-purpose cleaner; it helps remove grime and stains when deep cleaning.
Exert enough force and not more to avoid scrubbing too hard and damaging the non-stick base.
Try washing by hand and limit dependency on the dishwasher as it may damage some parts of the cookware due to too much heat.
How to Clean Your Air Fryer
There are two ways of cleaning your air fryer, doing a regular and deep cleaning. It's best to keep your air fryer clean and free from grime and grease to ensure it lasts long and delivers flawless fried flavor for a long time. The cleaning process takes a bit of scrubbing, rinsing, and wiping to clean caked-on grease.
What You Require
Baking soda
Water
Microfiber soft cloth
Cotton
Dish soap
A toothbrush/ brush with soft bristles
Vinegar
Paper towel
Dish soap
Check this too: How to Clean a Krups Coffee Grinder
Regular Cleaning
Remember always to clean your cookware every time you use it. If you fail to clean it, the cooked food left behind will burn and affect how the following recipe will taste. Again, failure to clean the cookware often will lead to a foul smell from food and grease remains. Learn these simple steps on how to clean it.
First, unplug the air fryer and let it cool down completely. You can remove the air basket and set it in the sink or counter to help cool faster.
Clean the air fryer basket. But it's best to consult your user air fryer's manual before cleaning it to know the best ways advised. Most air fryer baskets come in two pieces, a crumb and frying basket that is removable and safe to dishwash. The basket may have grease and gunk; soak it in dish soap and hot water. Later wipe it gently with a sponge or gentle brush.
Take the crumb basket out and throw away the left-over pieces of food. Wipe it with a soft, damp cloth. Hand wash it with dish soap, ensuring you clean all crevices both on the inside and outside. It may also help to use a dish brush or toothbrush to clean all the slats. Remember to avoid using any abrasive cleaners that might erode the coating.
Clean heating element. After the initial wipe, flip the air fryer and use a cotton swab and non-abrasive sponge to brush off any residue on the element.
Eliminate the hard-to-remove leftovers. Prepare a baking soda/water paste and apply it to the stubborn stains. Later, scrub using a soft bristle brush and wipe off using a soft cloth/ cotton.
Allow some time for soaking. If the basket has some stubborn stains and takes your time to clean up, lay the pan in hot soapy water. Let it sit for some minutes to loosen the stains, then clean with a sponge.
Wipe the down and outside surface of the air fryer. It's best to wipe the outside for any dust and even germs on the surface. Use a soft, damp cloth soaked in dish soap or all-purpose cleaner if any grease is on the surface.
Dry Out the air fryer. Wipe all the parts with a clean cotton cloth and leave the air fryer to air dry for a couple of hours.
Deep Cleaning
When you notice any funky smell in your air fryer or stubborn stains, it's always best to deep clean. Deep cleaning is best once a month or when necessary, depending on how frequently you use the cookware. Follow the following steps;
Carry initial cleanup- use a paper towel to wipe all grease on the inside and outside.
Prepare for vinegar bath. Combine nine parts of water to one part of vinegar to prepare the solution. Fill the tub with the solution and submerge the flyer's basket in it for 15 minutes.
Do the scrubbing. Use nylon, a non-abrasive sponge, to scrub the basket and dish soap for best results. Keep scrubbing until all the grease and food remains are gone.
Baking soda application. If you still spot any food residual and baked grease despite using vinegar, apply baking soda. Pour a bit of baking soda on a non-abrasive sponge and start scrubbing.
Dry it thoroughly. When the air fryer is clean, rinse the pan and the basket with clean water. It will be best to keep rinsing until you can't smell any vinegar or soap. Later wipe it all with a soft cloth and paper towel and leave it aside for some hours to air dry.
Can You Use Oven Cleaner on an Air Fryer?
According to the experts, it's not wise to use oven cleaner on your air fryer. Oven cleaner will make your cookware have fumes forever, and this will ruin your air fryer. Again, some oven cleaners are harsher than others and can degrade the quality of your air fryer. Depending on the air fryer's material, the cleaners damage the non-stick surface, making the pan unsafe for use.
Check these too:
Which Air Fryer is the Easiest to Clean?
Chefman Turbofry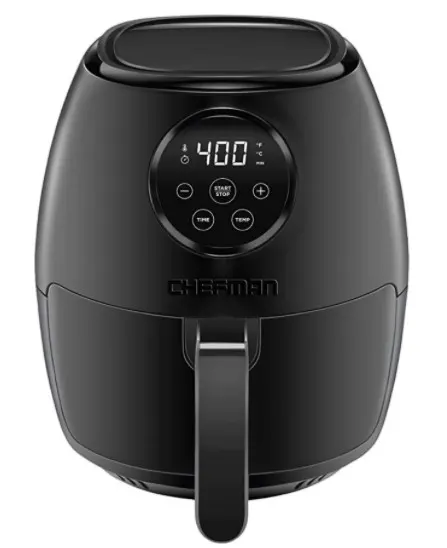 Chefman is an easy-to-use air fryer with a lightweight basket. The basket has vents to promote air circulation and allows dripping if you don't empty the grease build-up between rounds. The removable vents make cleaning easy without a brush.
Features
Oil-less frying
Compact and space-saving
Safe and durable
Easy to clean
Pros
Easy to use
Affordable
Easy to clean
Intuitive controls
It's quiet
Space-saving design
Cons
The cooking basket can be tricky to insert
It's tough to set temperatures above 400degrees
Dash Compact Air fryer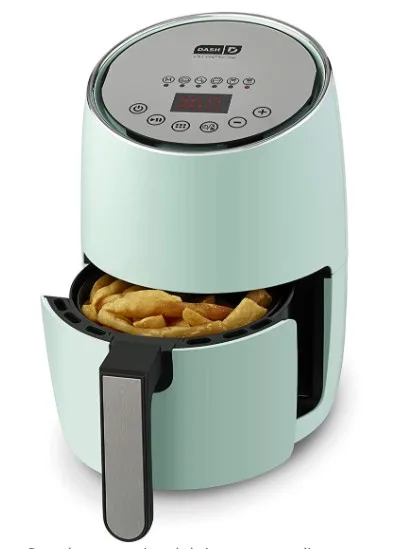 Dash is only fit if you are cooking for your family because of the small footprint. A smaller footprint takes up less room on your counter, and a smaller basket thus easy to clean.
Features
Touch handle that is safe to use
Auto shut-off function that prevents overcooking and controls energy consumption.
Adjustable time control
Adjustable temperature controls for cooking at ease
Pros
Small, compact design
It comes in an assortment of colors
It has an auto shut-off feature
Outer housing stays cool even while cooking
Cons
Sometimes do no-cook fries evenly
COSORI Air Fryer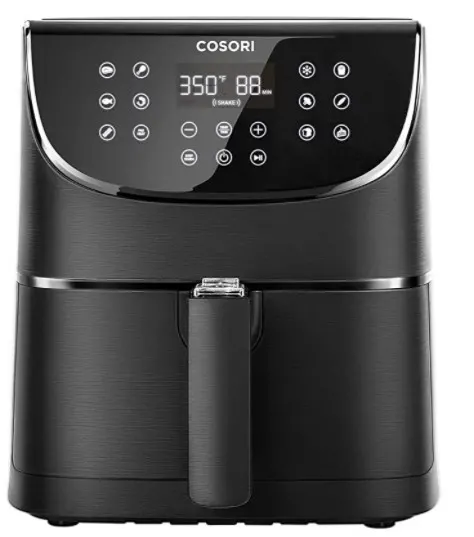 The COSORI offers large cooking space especially compared with other competitors. It's removable, lightweight with many vents for optimal circulation. Compared to other brands, it has a high score in ease of use. It's safe to dishwash the air fryer.
Check this too: How to Clean Discolored Enameled Cookware
Features
Automatic Shut-Off with Ready Signal
Keep Warm Function
11 Preset Cooking Programs with Shake Reminder
On/Off Power Button
Dishwasher Safe Parts
Pros
Touch screen with numerous presets for fresh and frozen foods
Backs up Amazon Alexa and Google Assistant voice commands
Preheats and cooks quickly
Cons
Bulky
Occasionally gets smoky
Screw on test unit basket can be loose
Conclusion
Cleaning an air fryer is easy, especially if you do it often. Always refer to the user manual before putting your baskets in the dishwasher to confirm if they are dishwasher safe. However, it's always best to hand wash and use a gentle soap like dish soap and an all-purpose cleaner. Again, remember always to avoid non-abrasive products like scouring pads, steel wool, and more.