A soundbar can be the difference between a theatre level movie experience and a basic TV viewing experience. Thanks to advanced technology, you can now get a surround system compressed in a soundbar.
This makes it a great space saver while still delivering the sound quality you need. It will also make your gaming experience much better.
Unfortunately, space limitation can even be a limiting factor when shopping for a soundbar. In some instances, the space beneath your TV or monitor may be occupied by other essential items leaving little room for a horizontal soundbar.
Not to worry, you can definitely get a vertical soundbar for the same level of high definition sound production.
Powered Bookshelf Speakers are a Better Option
While vertical soundbars are a great alternative to traditional speakers, especially if you have limited space, they also tend to have limited bass sound output, especially if you do not buy a higher quality soundbar.
That said, if you do not have the money to invest in a good quality soundbar, you would be better off buying powered bookshelf speakers.
This way, you can get a full sound profile at a fraction of the cost. Additionally, powered bookshelf speakers also tend to be compact in size, which offers a space-saving pro.
Lastly, their shell design tends to provide a powerful bass sound.
Here are the best vertical soundbars in the market currently.
Top 4 vertical soundbars
COSOOS 50W 39.4inch Soundbar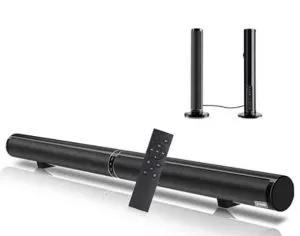 This vertical wall-mounted soundbar features four 10W, two 5W full-range speakers, and two bass diaphragms to deliver clear excellent stereo room-filling sound.
The soundbar has a detachable design, and it has three setting modes. The soundbar can be separated into two tower speakers connected by 2m/6.6ft audio cable, placed on a tabletop, or mounted on a wall.
The soundbar can be connected using a wired and wireless connection. It can also be connected to multiple devices such as a smart TV, computer, laptop, iPhone, iPad, iPod, Echo Dot, smartphone, tablet, and any smart devices that are Bluetooth compatible.
The soundbar also supports AUX, RCA, Optical, HDMI ARC, and external subwoofer. You can also connect it to projectors, DVD players, PS4, CD players, and other smart video, music, or game playing gadgets.
Features
Control Method: Remote
Item Weight: 4.1 Pounds
3 Setting Modes
Bluetooth Version: 4.2
Wireless range: 10m/32.8ft
SNR: 90db
Frequency Response: 80Hz-16Khz
Speakers: 4x 10W and 2x 5W full-range speakers, 2x bass diaphragms
Supporting Mode: Bluetooth / HDMI ARC / Optical / AUX / RCA / USB Disk / External Active Subwoofer
Mounting Mode: Split, Integral and Wall-mounted
Shell Material: PVC
Pros
Detachable Design
Wired and Wireless Connection
Easy to Install and use
Cons
Not compatible with Samsung TV
Check Price
The Sound of Nature PON 50W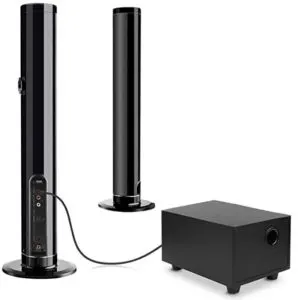 if you are looking for an all in one vertical soundbar speaker system, this is a great choice. It is the ultimate Bass Audio Soundbar for all your entertainment needs.
It features six built-in full range high-performance speakers, Bluetooth 5.0 version, and a digital amplifier that brings a full range of high fidelity stereo 360° 3D surround sound.
The 50W soundbar with 2.1 channel delivers full, rich, and realistic sounds that feel much more natural to your ears and immerse you in your entertainment with minimal static noise and distortion.
It can be connected using a wired connection, wireless connection, and using a USB interface.
Check this too: Best Soundbar Without a Subwoofer
The soundbar can be controlled using a remote and manually using buttons on the soundbar. The LED indicators shine in different colors for different modes, make it convenient to connect to various devices.
Additionally, the split design makes it easy to separate and combine.
Features
Speaker Type: Subwoofer, 3D, Soundbar
Control Method: manual and Remote
Item Weight: 7 Pounds
Bluetooth version: 5.0
digital amplifier
360° 3D surround sound
Connection: wired, wireless, and USB interface
Buttons or Remote Control
LED indicators
Pros
Built-in 6 full range high-performance speakers
Easy to separate and combine
Three settings: Wall Mounted Mode, Separated Mode, and One-piece Mode
Cons
No sound output adjustment option
Check Price
HowQ 2 in 1 Soundbar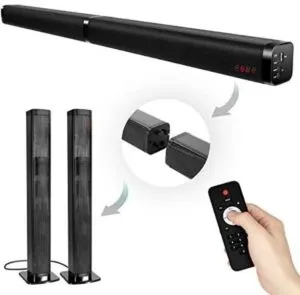 This 2 in 1 detachable soundbar can be used with the base, split into two, or placed on both sides of the TV for a better stereo effect.
It features four full-range 2″ 10W high-quality speakers, with 80dB sound pressure level and a strong 2.0-channel. The dual stereo provides you with better and clearer 3D surround sound.
It has three sound modes carefully designed to provide an immersive sound field experience for different sound scenes. The soundbar's DRG function can make the advertising sound increase suddenly and deliver crystal clear sound.
You can connect the soundbar using wireless and wired multiple connections. It can be connected via Bluetooth V5.0 + EDR transmission, USB interface, and AUX 3.5MM stereo audio input interface.
The soundbar is also compatible with smart TVs, tablets, USB disk, TF cards, laptops, desktop computers, mobile phones, DVD players, and many more.
Features
Speaker Type: Subwoofer, 3D, Soundbar
Item Weight: 2.5 Kilograms
Power Source: Corded Electric
Bluetooth V5.0
Dual Stereo, Bluetooth
USB disk (MP3, WMA)
0 Channel
Aux line in
Four driver speakers
Output: 40W
Speaker – Full frequency speaker: 2″10W*4, BASS membrane*2
Frequency response: 50-16kHz
SNR: 80dB
Voltage: 18V.2A
Bluetooth: V5.0 + EDR – Bluetooth distance: 10m
Shell Material: PVC with metal grill
Color: Polished black
Pros
Surround Sound Channel Configuration
Three sound modes
Wireless and wired multiple connections
Cons
Not compatible with some TV brands
Check Price
Samtronic 40W Detachable Soundbar TV Speaker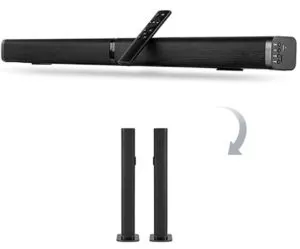 The Samtronic split soundbar features four full-range powerful speakers and two sound guide tubes that produce expansive audio and crystal-clear sound. It also produces superior 360° surround hi-fi sound and deep, powerful bass.
It also has a detachable design and can be split into two parts as one 2.0ch stereo tower speaker. It can also be joined together as one soundbar speaker. This allows it to be wall mountable, be used on a tabletop, or as side speakers.
Check this too: How to Clean a Mousepad
The soundbar can be connected using Bluetooth, 3.5mm line-in input, optical input, an aux input. It also supports USB disks and TF cards.
The soundbar can be supported using button control as well as a remote. Lastly, it comes with an 18-month warranty.
Features
Speaker Type: 3D, In-Wall, Soundbar
2 Bluetooth
Bluetooth input
Optical Input
AUX (3.5mm) input
USB/TF Card MP3 (Support MP3, WMA, and WAV Format music and up to 32GB)
LED Display
Detachable Design
Wall Mountable and Remote Control
Product Size :37.24x 2.40 x 2.40 inches
Black Glossy ABS Body
Pros
Superior 360° Surround Hi-Fi Sound
Detachable unique design
Easy operation
Dual operation modes
Cons
Check Price
Pros and Cons of Vertical Sound Bars
PROS
· Space-saving
· Highly portable
· Multiple connection options
· Easy to use
· Easier to mount
CONS
· Limited bass output
Most big brands don't make them
Conclusion
The best vertical soundbar should produce crystal clear sound and robust bass. It should also be compatible with a wide range of smart devices. Wired and wireless connections are a plus. And it should be able to play music or sound via other inputs such as AUX, optical, and Bluetooth.