I know the excitement that comes with purchasing a new thermostat. Not only is it going to automate things, but you'll also enjoy a significant reduction in your energy bills. If you have not yet got yourself a thermostat, I recommend that you check out our comprehensive thermostat reviews.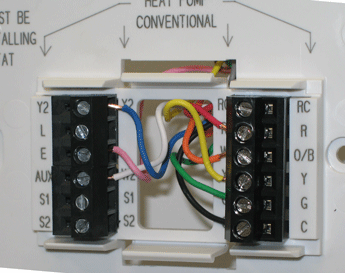 On the other hand, if you have got one, you've arrived at this page because you need to know how to connect it –and particularly you are interested in the C-wire. If you want to know all the wiring, I have written an all-inclusive thermostat wiring guide complete with the wiring color codes.
If your heating and cooling system has a C-wire (it is black or blue in color), you'll just have to install it into the thermostat as indicated in this wiring article. Make sure you follow the instructions and color codes that I have given in the chart.
However, if your system doesn't have a C-Wire, you'll either need to use batteries, get an external wall plug to supply power or use the G (Green) wire which is usually for the fan, to supply power to the thermostat.
Of course, I didn't write this review just to tell you to use batteries.
The second option will probably need another wire and socket so you'll spend an extra amount and have additional wires running in your home which isn't that great. I am therefore going to explain to you how to use the third option to power your thermostat in a few steps.
This method works with all the Smart thermostats as well as the Trane XR524 Z-Wave thermostat as long as it is compatible with your heating and cooling systems. I'm not an electrician and I am only showing you what I have done on my thermostat and it will work for you too. If you are not comfortable with wires and electrical systems, I recommend that you contact a professional.
If you do it in the way I am going to show you, you won't have the ability to turn on the fan by itself. However, the thermostat will turn on the AC heater or fan automatically hence there's actually no need to turn on the fan by itself. If you want to use this method but you feel you'll need a fan to blow air to your face at one point or another, please check out this inexpensive electric fan for home use.
How to Wire a Thermostat with no C-Wire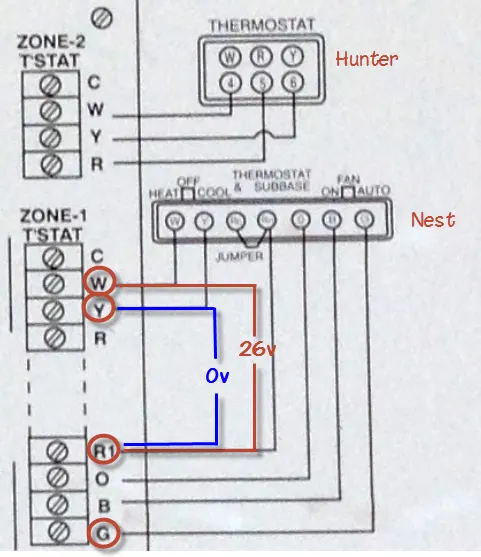 First, you have to TURN OFF the furnace. Ensure that there's no power supply to any component before you begin. Once you have done this, you can now do the following:
Open the furnace and locate the motherboard –this is a board that has transistors, capacitors, and a couple of wires, among other components.
Using a screwdriver, change the green wire from terminal G to C
Next, take a small wire of the same size and characteristics as the other wires used in the HVAC and prepare it for use as a 'jumper' wire.
Now connect terminal G to Y. This connection allows your air conditioner and heater to turn on the fan. If you don't do this, your fan won't be able to turn on since it wouldn't be powered.
Close the furnace and return to the thermostat.
Now from here, you only need to remove the old thermostat and make a simple connection before it works perfectly. Follow the following set of instructions to make the connection on your thermostat.
Use the tags that come with your new thermostat to label each wire
Use the thermostat wiring connection guide the way it is EXCEPT connect the G (green) wire to the C (common) terminal.
Remember to tag the G wire as the C, so that you wouldn't be confused.
Connect the other wires as instructed in the thermostat connection manual. You can also use this wiring guide to finalize the connections.
If you have reached this stage, then congratulations. You have just connected a thermostat to an HVAC that didn't have a C Wire! You can also follow these steps.
The Simplest Way Out
If you don't want to bother yourself with the long tutorial below, you should consider purchasing the Venstar ACC0410 Add-A-Wire Accessory for All 24 VAC Thermostats (4 to 5 Wires) er. This simple piece has an inbuilt circuit that adds the necessary C-Wire to your system and doesn't force you to toy with extra cables as it is a plug and play.
With the price being lower than $30, I'd say this is a worthy price to pay if you are not the fiddly type. The device has overwhelmingly positive reviews on Amazon and the Venstar installation videos will have you up and running in no time.
Check this too: Nest Thermostat How to & Troubleshooting Guide
I hope these instructions have been helpful in wiring a thermostat without C wire and that your thermostat and HVAC are functioning as expected.
The following video explains the process of installing a thermostat with or without a C wire.