Everyone should own a fireproof bag in case a disaster hits your house. Some items are so valuable, and you can compensate them when lost, like documents. Fireproof bags have unique materials for superior heat resistance, and some can tolerate as high as 2000 degrees F. These bags can protect your documents, electronics, batteries, and more valuable items. The items you can store in the bag depend on their size and design.
Yes, fireproof bags do work in protecting your items from heat and fire flames. Some bags can last 30-120 minutes in a fire, depending on the temperatures. The higher the fire temperatures the less time the bag will withstand. But as recommendation for best results choose a bag that is fireproof and waterproof. Also, consider one with a double coating for extra protection.
Are fireproof Bags Efficient?
Fireproof bags do work, but only for the quality ones. Some packs in the market aren't up to standard. To choose the best, you have to consider the price, the more you pay for it, the better the quality. However, all fireproof bags have limited protection; they can't give 100% due to the following factors;
Temperature limit- the bags have varied temperatures that they can withstand. The temperatures vary from 1000-degrees F to 3000 degrees F. So, the higher the temperature limit the better for protection.
Time limit- each bag has the amount of time it can resist fire. After the time limit, the bag will catch fire and expose all contents to damage.
Limited water resistance- some bags have limited waterproofing, meaning they can submerge.
What Can I Safely Store in a Fireproof Bag?
With superior protection, fireproof bags will protect your personal belongings and essential documents. Different items require different bags for storage as each material can withstand different temperatures and humidity levels. So, whatever you store in each bag matters and its media. For instance, documents require a bag that can stay under 350 degrees inside.
For the digital media, the CDS, and the others, you require bags that can stay under 125-degrees. This because the digital media items are more fragile and easily damaged at high temperatures. Ensure you always remember this when choosing the right bag for you. The manufacturer always clarifies whether it's safe to store drives and discs or not.
Some of these items and documents include;
Paper- they require a fireproof documents bag.
Passports
Legal documentation
Powers of attorney
Academic documents
Birth certificates
Emergency cash / valuable coins
Family photos
Digital media – though the best alternative is to use a fireproof safe.
USB flash drives
DVD's
CD's
External HDD
Some items may be damaged if stored in a fireproof bag. For instance, debit cards and credit cards are plastic and contain a magnetic strip.
Will plastic melt in a fireproof bag?
Yes, plastic items will melt if the temperatures inside reach their melting point. Various types of plastic have different melting points. For safety measures, avoid storing plastic bags, credit cards, or other plastic commodities in the fireproof bag. It's best to use other alternatives, which are fireproof safe.
Are There Better Alternatives?
There are fireproof safes. The safes protect your valuable items from dust, smoke, fire, and hot gases. They are indestructible and the best choice to prevent any break-ins. Even if someone breaks into your home, one will struggle to get into the fireproof safe. The safes are heavy, well-built, and one may require heavy tools to open it like the blowtorch.
How to Use Fireproof Bags for Best Results
You can choose large fireproof bags to store almost all the essential valuables at your home. During traveling, choose a lightweight, fireproof suitcase, easy to carry and flexible. The bag should have comfortable straps and even a lock for safety. For items that you don't need to take, choose a more spacious and heavily built pack. These are documents that you rarely use, so it won't be hectic to keep opening.
But, remember, the light and flexible bags are less durable and protective than heavily built safes and cases. You have to balance between portability and safety. The light bags with zippers are less resistant to fire, thus suitable for traveling than home storage. In comparison, those heavily built and more sturdy can store the most valuable items. For added safety, you can even place them in a safe.
While choosing a bag, you will have to decide what valuables you want to store in terms of their fragility. Additionally, check on the fire-resistance rating and timing. For zones with a high risk of fire, use bags with higher temperature ratings and timing, which are expensive. Are the bags worth the money? No, because they are not entirely damage-proof and can't prevent burglaries. For best results, consider buying a burglary safe; it has more fireproof bag efficiency.
How Long Do Fireproof Bags Last?
A typical fireproof bag rated 30-minute UL will protect paper documents for 30 minutes in a normal firehouse within its temperature rating. So, if the temperatures go beyond its limit, the bag loses its quality and exposes items to damage. Other bags will have a 90 minutes UL rating, meaning they will only protect the documents for at least 90 minutes within the temperature limit. Therefore, most bags will only last within a range 0f 30-120 minutes UL depending on their quality.
Best Fireproof Bags
COLD CASE fireproof bag
OXZOH Fireproof Bag
ROLLWAY Fireproof Document Bag
COLD CASE fireproof bag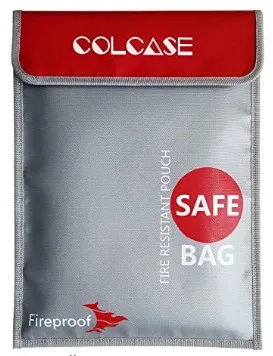 The bag is a basic envelope to keep your small documents safe. The significant advantage is fewer pockets than other bags to keep cash, money, passports, and legal documents.
The envelope is of high quality and has an attractive price that makes it the best on Amazon. COLOCASE has dual layers made of supreme fire-resistant fiberglass material coated with silicone. The bag can stand fire and heat up to 1000 degrees F, and it's also water-resistant.
The bag is compact when empty, but it's large to fit tablet, laptop, and A4 documents. The bag comes with a large opening, Velcro flap, thus easy to fill and empty items.
Features
Non-itchy silicone coated fiberglass
Has double layers for protection
Large size to store all documents
Water-resistant
Pros
Waterproof bag
Can hold legal-size documents
Resist fire and heat up to 1000 F
Its budget-friendly
Has double-layer construction for more protection
Highly rated
Cons
Fails to have large width expansion
OXZOH Fireproof Bag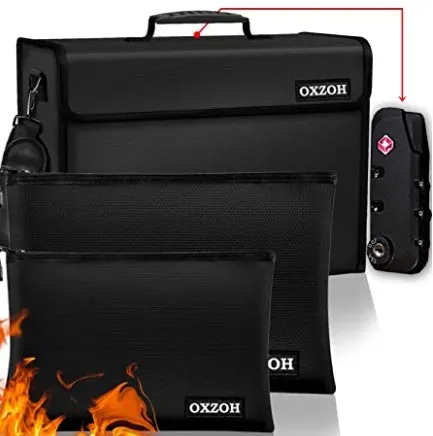 The bag is three in one with two additional bonus fireproof bags. You can fit all your documents in the larger one, others like cash, passports, social security card in the others. OXZOH has upgraded security as it comes with a lock, providing more protection for your valuables. It also has an over-the-shoulder strap, thus appealing. Again, the bag is lightweight and easy to carry around.
The bag has triple-layer protection; inner silicone-coated strong fiberglass, middle-fireproof non-woven fabric, inner-fiberglass fabric. OXZOH doesn't produce any foul smell or itchy sensation and features a TSA lock for an extra barrier to prevent theft. Due to its comfortable straps and being lightweight, it's the best travel bag.
Features
Non-itchy, non-smelly durable bag
Fireproof bag with a lock for safety and security
Stylish and spacious to fit all documents
Different size fireproof bags
100% water resistant
Pros
The quality lock provides safety and security
Best fire rating of 2192 F
Lightweight with an over-shoulder strap, thus easy to carry
Spacious to fits both legal and A4 size documents
Water-resistant
Comfortable straps
Has two additional bonus fireproof bags for cash and storing smaller documents.
It has value for money as it has more safety and security features.
Cons
It's an expensive bag due to the high level of safety and security.
ROLLWAY Fireproof Document Bag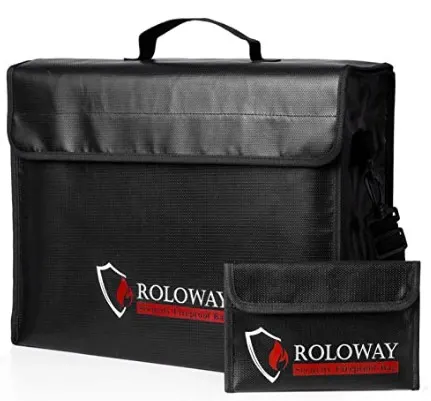 The bag offers you the best and first A4 and legal-size documents well. The bag is lockable, but you have to purchase the lock separately. It also comes with an additional passport size fireproof bag. Rollaway has a fire rating of 2000- degrees F. The bag has two layers of fire-resistant and water-resistant fiberglass coated with non-itchy silicone.
The silicone fiberglass has reinforced stitching and seams, thus more durable. It comes with a small-sized bag for documents like bank cards, cash, and other small items. Rollaway is so huge to fit your laptop, documents, and up to 3-ring binders, legal documents, and other papers. It can also fit in some fireproof safes.
Features
Water-resistant and fireproof due to having quality dual layers like fiberglass
Large capacity to fit more documents
Higher security with lockable zipper and wider hook, loop closure
Non-itchy silicone materials
Easy to store and carry
It comes with an additional bag for small valuables
Pros
Good width to fit large legal documents
It comes with a bonus passport size bag for smaller documents like a passport or money.
Has best resistance fire rating of 2000 F
It fits legal-size documents and even A4 sized
Cons
It has only one bonus bag.
No lock included
Conclusion
Fireproof bags work, but several factors limit them, as previously mentioned above. Depending on the situation, the bag may not be the best choice if the fire goes beyond the 30-120 minutes limit. In such a situation, a fireproof safe is the best. Again, these bags only protect some materials, especially documents. Digital media is more fragile and prone to heat damage, especially plastics which can melt.