Most powerful name brand blenders cost between two hundred and five hundred dollars. Making them a tad too expensive for the general population. But we still need to own a blender in this day and age for convenience purposes. Especially when you need to make purees, smoothies, soups, among other liquefied foods.
While there are generic off-brand blender options in the market, most of them are substandard and their lifespans range between 1 to 6 months at best. But if you shop diligently, you are likely to get a budget version of a brand name blender or an off brand blender that is actually as good enough as the budget brand name blender. As such here are the best blender under 200.
Top 5 Blenders Under 200 Dollars
| Name | Capacity | Material | Motor | Price |
| --- | --- | --- | --- | --- |
| Blender By Cleanblend | 64 oz | BPA free jar and Tamper Wand | 3 HP 1800 Watt Motor | Check Price |
| Hamilton Beach Professional (58800) | 64 oz | BPA free jar(shatterproof) and tamper | 1800 watt/2. 4 peak HP | Check Price |
| Breville BSB510XL Control Grip Immersion Blender | 25 oz chopper bowl, 42 oz blending jug | Independent jar from the handheld blender | 280 watt motor | Check Price |
| Ninja Professional Countertop Blender (BL660) | Dishwasher safe and BPA free parts | 72 oz jar, Two 16 oz cups | 1100-Watt motor | Check Price |
| KitchenAid Diamond Vortex KSB1575 (Aqua Sky Blue) | 60 oz | BPA-Free patented Diamond Pitcher | Intelli speed motor control, 5 Speeds/Crush Ice/Pulse Mode | Check Price |
Blender By Cleanblend

This budget blender is perfect for making smoothies, fresh juice, ice cream, milkshakes, cappuccinos, margaritas, soups, sauces, batters, dressings, salsas and much more. It uses food-grade stainless steel to create an eight blade system with sealed ball bearing for optimal blending.
This commercial-grade smoothie and shake blender have a five-year warranty, a pulse feature, a BPA free blender jug, stainless steel drive train, and variable speed options.
The Cleanblend blender is a 3 horsepower blender capable of liquefying fruits and vegetables to get the most vitamins, proteins and antioxidants from the whole food into one delicious drink.
Features
Stainless Steel Bearing
Food Grade BPA-Free 64 Oz Container
Stainless Steel Blade
Tamper and Motor
Pros
Durable
Multifunctional
BPA free
Cons
The jug is too big for the base and it wobbles
Check Price
Hamilton Beach Professional (58800)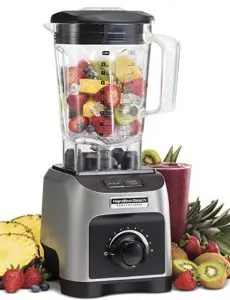 The reliable blender has a powerful 1800 watt/2. 4 peak HP motor that enables its food-grade stainless-steel blades rotate over 140 mph providing enough power to quickly crush ice, puree sauces, chop nuts, grind grains and more.
It uses a speed dial for ultimate control. it also has pulse function that can be used at any speed for mixing and chopping without over processing for textured foods and drinks.
Check this too: Best coffee beans for french press
The blender motor is thermal-protected to prevent overheating, and rubber-mounted components make the blender quieter than other blenders. The blender comes with a, 64 oz. jar that is BPA-free, dishwasher safe, and shatterproof. The jar's lid includes a removable filler-cap that doubles as a measuring cup for dressings and marinades. It also has a tamper to help blend dense ingredients.
Features
Hardened stainless steel blades
Variable speed dial
Thermal-protected motor
Rubber-mounted components
Easy-pour measuring cap
Pros
Durable
Tamperproof
Mess free
Dishwasher safe
Cons
Check Price
Breville BSB510XL Control Grip Immersion Blender

This innovative blender has a bell shaped base and internal ribbing that reduces the suction for greater control and efficient blending. It also has an ergonomic pistol-like control grip with trigger operation for easier handling. The blender comes with a copper bowl for food processing purposes as well as a non-scratch base to prevent scratching pots;
The blender's chopping bowl with stainless steel chopping blades is ideal for herbs, nuts, and cheeses. While the 42 oz Extra-large jug with dual-purpose storage lid and anti-slip mat is ideal for blending, measuring and storing ingredients. It also comes with a whisk attachment to incorporate air into egg whites and cream.
Features
Bell shaped base
Ergonomic pistol like control grip
15 variable speeds
Stainless steel ice crushing blades
Non-scratch guard
Non-slip base
Pros
Durable
Multiple speeds
Ice crushing feature
Cons
The whisk beater performance is underwhelming
Check Price
Ninja Professional Countertop Blender (BL660)

As the name suggests this blender under 200 dollars definitely qualifies to be a ninja. It has an 1100 watts motor, 3-speed settings, a pulse function, and single-serve functions. It comes with a 72 oz total crushing pitcher that pulverizes ice to snow in seconds for creamy frozen drinks and smoothies.
It also has two 16 oz Nutri Ninja Cups with to-go lids that are perfect for personalized on the go drinks. The blender is dishwasher safe and BPA free.
Features
3 speed settings
Pulse functions
72 oz Total Crushing Pitcher
Single Serve Blade Assembly
Pros
Single serve functions
Dishwasher safe
BPA free
Cons
The jar is not tension proof
Check Price
KitchenAid Diamond Vortex KSB1575 (Aqua Sky Blue)

Using a soft start feature that starts the motor at a slower speed then quickly increases to the selected speed setting allows you to add ingredients as you blend for a perfect texture. It has a control panel with white LED light for easier control. The Clean-Touch Control Panel is also easy to clean. The blender comes with a 60-oz. BPA-Free patented Diamond Pitcher design to be shatterproof, scratchproof, and stain-resistant. The jar is also dishwasher safe for easy cleanup.
The blender has a steel-reinforced coupler provides direct, efficient power transfer from the motor directly to the blade for robust blending. The coupler is also coated for quiet operation. And the blender's die cast metal base makes it extra sturdy.
Features
Diamond Blending System
Intelli-Speed Motor Control
5 Speeds/Crush Ice/Pulse Mode
Soft Start Feature
Pros
Cons
The base is fairly heavy; – needs a permanent countertop spot
Check Price
Conclusion
As per the options above, the best blender under 200 should be able to crush ice, pulse, and have multiple speed settings. As an extra precaution, ensure that the blender you get has a multi-year warranty. This should serve as a guarantee of its quality. Look at online reviews before you settle on a blender.